Marketers' Most Wanted: LGBT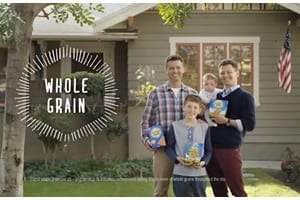 In the Most Wanted series, Chief Marketer looks at some of the top demographic segments marketers need to target in 2017. In this week's spotlight, the LGBT community.
Who: Short for "lesbian, gay, bisexual and transgender," the LGBT market consists of those who do not identify as heterosexual. The sector is sometimes referred to as LGBTQ, with the Q standing for "queer" or "questioning," depending on whom you ask. That said, LGBT is the favored term among the majority of the audience, according to the 10th Annual LGBT Community Survey, released in July 2016 and conducted by San Francisco-based Community Marketing, Inc. (CMI). One reason: Queer is still considered a pejorative among baby boomers and even some Generation Xers. Even millennials, however, favored LGBT to LGBTQ, by 72% to 68%.
The Stats: Estimates regarding the number of LGBT Americans vary from 4.6% of the population (Pew Research, per a 2014 survey) to 8% (Public Religion Research Institute, also from a 2014 survey). That would put the size of the market between 14.8 million and 25.8 million. Regardless of the exact number, Washington, DC-based PR and marketing firm Witeck Communications estimated the disposable personal income of LGBT adults in 2015 as $917 billion.
Why You Want to Reach Them: If the sheer size of the market isn't enough to convince you, consider this: More than 54% of millennials who participated in an August 2014 Google Consumer Survey said they would choose an LGBT-friendly brand over a competitor that wasn't "equality focused." By including the LGBT audience in your marketing efforts, you're also encouraging engagement with a substantial number of non-LGBT consumers.
Preferred Channels: The channel and media preferences of the LGBT audience are really no different from those of their non-LGBT counterparts. "They should be treated differently as a market," says Jenn T. Grace, a Hartford, CT-based LGBT business strategist, "but no differently than you would target, say, millennials vs. baby boomers."
In other words, demographics are more influential than gender preference when determining how best to reach the audience. If a combination of email and mobile marketing has been effective for you in reaching heterosexual consumers of your target demographic, it should also be effective in reaching LGBT consumers within that demo. "The LGBT consumer isn't some rare unicorn," Grace says. "They truly are a microcosm of the larger community you're serving."
For that reason, arguably the easiest way to reach out to the market is to include photos of same-sex couples and other LBGT-friendly imagery among your marketing materials. Showing same-sex couples alongside heterosexual couples in catalogs, for instance, lets consumers know that you're inclusive without singling out LGBT buyers as "rare unicorns," anymore than you'd single out African American, Hispanic or differently abled consumers.
Another effective way to show that your brand supports the audience is to participate in LGBT events such as Pride Walks. Note that we said "participate," not merely "sponsor." While it's all well and good to sponsor parades with signage—or to advertise in gay media, for that matter—"when you're advertising to the community or you're sponsoring something, people expect you to show up and walk the walk and talk the talk," Grace says. "You have to participate in regional events, national events, local events."
Having a physical presence at such events is key to establishing authenticity among this audience. Easily as important is making sure that your company's policies are LGBT-friendly. For instance, if your state still allows employment discrimination based on sexual orientation or gender identity, your company needs to have in place policies offering antidiscrimination protection before you can reach out to the LGBT community. Otherwise, "there's going to be a big disconnect," Grace says—especially since the LGBT audience tends to be highly educated and aware of corporate policies and attitudes.
Who's Getting It Right: From its launch in 2014, Honey Maid graham crackers' ongoing "This Is Wholesome" campaign focused on inclusivity, with ads featuring minority, blended, multicultural, multiracial and LGBT families. A commercial that included same-sex parents received backlash and threats of boycotts from groups such as One Million Moms, who claimed it was an effort to "normalize sin."
As powerful as Honey Maid's initial commercial was, its response was even more so: a spot in which it had artists create an installation declaring "Love." The artwork was made of printed-out emails of consumers the ad had angered —and from the messages of those who praised the original ad, which outnumbered the messages of protest 10 to 1. Doubling down on its inclusionary message earned Honey Maid even more praise from the LGBT community and its allies. "A lot of times it's how you respond to the criticism that makes or breaks when marketing to the community," Grace notes.
TD Bank has also earned kudos for its longtime support of the LGBT audience. The bank has had a Lesbian, Gay, Bisexual, Transgendered, and Allies subcommittee since 2004. In addition to sponsoring scores of Pride Week parades every year—and having a loud-and-proud presence at them—it's been recognized by the Human Rights Campaign as one of the best workplaces for LGBT equality in the U.S. since 2010 and offers the Reaching Out LGBT MBA Fellowship, with recipients receiving scholarships and leadership development.
Related Articles:
Marketers' Most Wanted: Millennials
Marketers' Most Wanted: Teachers
Marketers' Most Wanted: Sports Fans
Marketers' Most Wanted: Physicians
Marketing to the LGBT Community: How to Get it Right