KFC's New Dating Game Seeks Love for the Colonel
From rotating celebrity colonels to live-stream videos of cats climbing a colonel in a kitty condo to a massive colonel floatie, KFC comes out swinging from left-field with its marketing magic.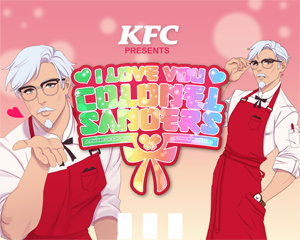 This month is no different. The brand is introducing the "I Love You Colonel Sanders" —a choose your own adventure-style dating simulator that gives gamers the opportunity to date Colonel Harland Sanders.
The game follows the player on a journey as a promising young student through University of Cooking School: Academy for Learning as they navigate relationships and the social challenges that the fast-paced life in the kitchen can bring.
Players go through three acts and given options that effect the outcome of the game, as well as the chance to date the Colonel. The "suave" Colonel Sanders, in his signature all-white suit and folded-to-perfection bowtie, also joins the culinary school to embark on his journey of becoming the world's greatest fried chicken salesman, adding to your list of challenges.
The game, which is being marketed through earned media outreach and social posts on KFC, debuts on the Steam platform Sept. 24.
---
Other articles you might enjoy:
---
In March, some of its marketing into the hands of the masses with the launch of the KFC Innovation Lab. The lab uses crowdfunding platform Indiegogo to set the stage for consumers to help fund some of the wackiest ideas KFC has come up with yet like a hot tub that looks like a KFC bucket? The giant bucket features wood-fired heating technology and the capacity for five people.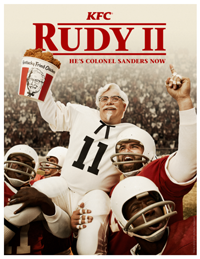 KFC's CMO Andrea Zahumensky shared a key ingredient in KFC's marketing strategy shortly after she took over the post last year: "Continuing to make sure that the brand is connecting with its customers in really meaningful and new and unexpected ways that consumers find interesting."
KFC has also had a rotating roster of celebrity Colonels. The most recent, announced earlier this week, is Sean Astin as Colonel Rudy in "Rudy II." Astin is well-known for his leading role in the 1993 classic sports film "Rudy.