KFC Lab Crowdfunds its Craziest and Most Innovative Ideas Yet
From rotating celebrity colonels to live-stream videos of cats climbing a colonel in a kitty condo to a massive colonel floatie, KFC comes out swinging from left-field with its marketing magic.
Now, the company is putting some of its marketing into the hands of the masses with the launch of the KFC Innovation Lab. The lab uses crowdfunding platform Indiegogo to set the stage for consumers to help fund some of the wackiest ideas KFC has come up with yet.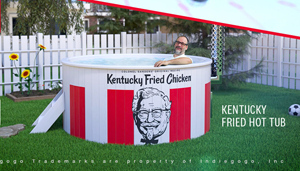 How about a hot tub that looks like a KFC bucket? The giant bucket features wood-fired heating technology and the capacity for five people. Another innovation is the Little Colonel Locator that pairs a necktie with in location-tracking technology so people can locate anyone wearing the tie if they are within 100 feet of the users smartphone. Or if you prefer a picnic, a kit includes a pop-up table and life-size cardboard Colonel that will actually hold a bucket of Kentucky Fried Chicken.
---
You May Also Enjoy:
---
Should one of the projects get fully funded, the KFC Innovation Lab will begin development of the product, which will be offered to the consumers who contributed to it. People that contribute in smaller amounts can receive items like branded sweatpants, t-shirts or 3-D sticker packs.
The lab joins the string of stunts and other promotions in KFC's new approach to meeting consumers in unexpected ways that also draw plenty of attention from the media.
KFC's CMO Andrea Zahumensky shared a key ingredient in KFC's marketing strategy shortly after she took over the post last year: "Continuing to make sure that the brand is connecting with its customers in really meaningful and new and unexpected ways that consumers find interesting."