Kellogg Cuts Loose Promotions for Jurassic World
Kellogg has kicked off a slew of promotions building on its partnership with Universal Pictures and the wild ride of the upcoming Jurassic World: Fallen Kingdom, opening in theaters June 22.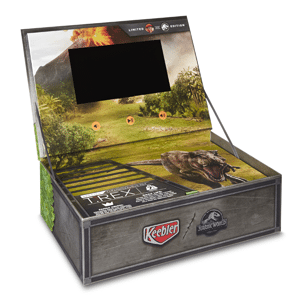 Limited-edition Kellogg's Frosted Flakes and Keebler Fudge Stripes collector's boxes were the latest promotion to be released. The boxes include product samples and more than five minutes of behind-the-scenes footage from Jurassic World: Fallen Kingdom, just days before the film's theatrical release on June 22.
The content takes viewers on set with the stars and creators of the movie to see how the motion picture was brought to life. The boxes are for sale on Amazon for $24.99 each.
---
More on Entertainment Tie-Ins:
---
In addition to the Amazon-exclusive boxes, select Kellogg's products have received a prehistoric "makeover," featuring limited-time promotional packaging. Consumers who buy the special packages receive free movie tickets, and Jurassic World: Fallen Kingdom-themed popsicle molds, available in select cereal packages. It also provides specially themed licensed products while supplies last—all offering fans exciting and delicious ways to celebrate the movie's release.
Don't worry, fans who can't get their hands on this exclusive content can still join in on the fun. Select Kellogg's and Keebler packages, available at retailers nationwide, will feature a unique Shazam code that unlocks interactive games and unique content.