Jockey and Target Join to Sell Women on Men's Briefs
If you've been in a Target store lately and you're of a marketing mindset to roam around and see what the competition may be up to, you may have noticed something new in the men's underwear department.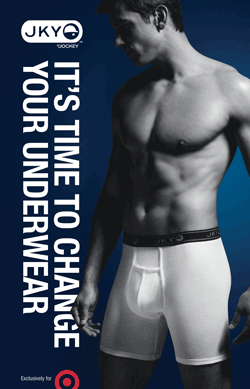 Jockey last month launched JKY by Jockey, a line of underwear and undershirts for men, and has debuted a new retail marketing program in Target stores to reach the younger Target customer. But before the products were offered to consumers, a hefty dose of in-store research was conducted that unearthed some interesting findings that drove the entire marketing program.
First, the brand discovered that it isn't always men who buy underwear, but rather women ages 18 to 34, who make up 48% of the purchases. This insight resulted in Jockey downsizing its target audience from specifically men ages 35 to 55 to first talking to the female shoppers (thus the images of sexy men on the in-store materials), and then to the men.
The second major finding determined that underwear packaging is all wrong; shoppers want to feel the fabric, look closely at the color, thus all the ripped up packaging seen throughout the department. To that end, TPN, which is managing the program, designed packaging—a see-through box that can be opened and closed. The packaging has an upscale look with clean graphics and a dedicated area to help consumers find the correct size. The boxes also show a color-coded system with line art product silhouettes that coordinate to the various cuts, a design element Jockey is picking up for the rest of its underwear lines. Shoppers can also learn which style of underwear is "best" for each type of men's clothing, creating a need for additional purchases or consideration of more styles.
"The idea was to take all of the great Jockey quality and style and to position it for a younger audience," Sarah Cunningham, vice president of account services at TPN, said.
Other research findings include:
* Nearly two-thirds of Target shoppers are female, and they skew younger in age—53% of shoppers are under age 44.
* ?Function (ex: a new technology in the fabric) drives trial more than appearance does (ex: the way it looks).
* Women touch products as a way to determine quality—even if it's for their partner's underwear.
* When selecting underwear for the man in her life, a woman is more likely than he is to select something new.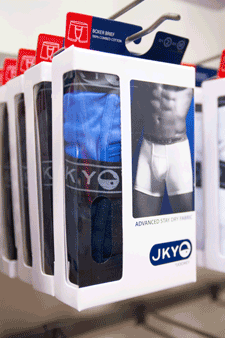 In stores, the product line has prominent placement on the back wall, where a large graphic header shouts out the promotional message: "It's Time to Change Your Underwear." The large header supports smaller headers and shelf graphics. In another department where men's jeans are sold, pull-through pocket cards are inserted into men's jeans to draw them to the JKY by Jockey section.
"What is normally seen as a real chore, particularly for men, is the idea behind taking something that is a mundane process and making that more of a surprise adventure," she said.
TPN, which ranked No. 32 on the 2012 PROMO 100, also developed the creative for JKY line for Target.com, which is typically mostly done in house, and the Target circulars. The creative is themed to tie in with graphics and messaging consumers will see in Target stores.
"Target could have just taken the product itself and stuck it up there," Cunningham said. "But they pulled out the branding component for JKY and the call-to-action to make it feel more interesting and more special and defined a little more than other products."