J&J Consumer Takes Strong Steps to Revitalize its Brand
Johnson & Johnson's position in the U.S. baby-care market has been eroded by startups and other companies focusing their product innovation and marketing on all natural ingredients—a critical strategy to reach Millennials looking for high-quality, all natural ingredients to meet their healthy lifestyles.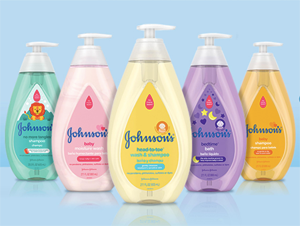 Internally, a turnaround marketing initiative is underway. Project Apollo—naming the program after human spaceflight—indicates the serious and immediate nature of the efforts to bring the brand back to full vitality and relevance.
In a risky move, J&J has turned its iconic golden-hued baby shampoo clear "as part of an effort to eliminate dyes from its products. A compromise was reached: The bottle itself was colored in the shampoo's familiar shade to appeal to consumers who had grown up using the gold product," CMO Today reported.
And, with many brands, influencers have taken a key role in J&J's paid marketing strategy. It is also running a major digital campaign.
The report, based on a Wall Street Journal article, also pointed out that J&J's market data reports may not have told the entire story.
"The data firms J&J relied on captured sales at big-box stores like Walmart and Target but didn't track e-commerce sites like Amazon and Boxed. A rather large oversight!" CMO.com said.
In other news, J&J Consumer, announced this week that it is joining with the Ellen MacArthur Foundation, the UN Environment Programme, and other industry-leading companies, governments, and NGOs to tackle plastic waste and the necessity of consumer packaging reform.
---
Other articles you might enjoy:
---
The company said it is committing to use more recycled materials in packaging, reduce reliance on the single-use model, and ensure that 100 percent of plastic packaging be reusable, recyclable or compostable via design, partnerships, and investments by the year 2025.
"We are embracing the issue of packaging reform as both a challenge to do better and an opportunity to do good," said Alison Lewis, global CMO, Johnson & Johnson Consumer, says. "We believe this initiative can be a powerful catalyst for driving meaningful changes in our behavior as a company—as well as the behavior of consumers themselves."
Voice have grown louder around the entrenched issue of plastics in our seas and oceans. Marc Pritchard last week called on all marketers to take stronger action to tackle society and sustainability issues, including ocean plastic, clean water and the inequality between men and women.
"It starts with the fact that people expect a lot more from our brands," he said. "They expect us to have a point of view on society and sustainability issues. It's not optional."
Eric Reynolds, the CMO of The Clorox Co. was also outspoken on the issues last week. "We're going to continue to talk about purpose-driven brands. We want a brand to stand for more than just making money, but what we realized in a time of incredible fragmentation is that we need to make sure we know who the people we serve are. And brands still need a core, a core idea that animates the imaginations of everybody who works on it and the people we seek to serve. That will rise in importance and it will be essential to hold the center," he said during a wide ranging interview with Chief Marketer where he also discussed challenges, growth opportunities and #MeToo among other issues.