Jeff Charney, Progressive CMO: You Better Out-Create
For marketers, it's a stunning fact: more will change in the next 12 months than in the last five years. A somewhat ominous message with an undertone of excitement and the urgent message: You better out-create your competitors.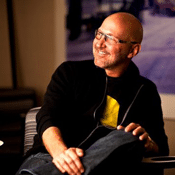 "You have to change in a huge, huge way," Jeff Charney, CMO at Progressive Casualty Insurance Co., told the crowd today at the ANA Masters of Marketing Conference.
His six recommendations were straightforward:
Do not follow trends, lead trends.
Have a very high bar
Run your operation very differently from all others
Take risks on who you associate your brand with
Data doesn't tell you much, look for the insights
Fire yourself and start the next day fresh
Progressive has crafted and run some 130 commercial with its iconic spokesperson, Flo. In a recent campaign, it used the "walk down memory lane" theme to take viewers back to a different time, a time of after school specials with terrible dialog. Watch this:

It turns out, that the last words spoken in the video, "Sprinkles are for Winners," was not scripted, it was improv, and a stroke of marketing luck.
At the time, Oregon was playing Ohio State for the National Championship. At 12:02 Progressive pushed out the spot saying, Sprinkles are for Ohio, which won the game. Months later, celebrities, politicians and others were still talking about "Sprinkles are for Winners."Even Lil Wayne dropped the words into the end of one of his rap songs.
"It went wild and viral," CMO Charney said. "It shows you the power of something that happens sometimes by accident and if you move swiftly enough you can keep that going."
Operation network
Charney runs his marketing organization differently than most.
"We run it as a network," he says. "I am CMO but also programming for hundreds of channels. I'm running a network and central to that is a great cast of characters. Behind Flo is the network strategy. Every story starts with the hero, the set changes and the character keeps evolving. It's easy to say it, it's difficult to do it and when you try new things you get nervous. We measure everything and we can measure the performance of an ad and what it does for performance. Flo has been around a little more than 8 years, she's more likeable now. The network centers around storytellers and we better be the best storytellers in the biz. Fresh content wins." Forbes called Charney's marketing organization unique.
Progressive had 500,000 Facebook fans before it started the "network effect." Now those numbers are well over 5 million.
In an example of taking risks on who the brand associates with is the tale of Progressive and Seattle Seahawks running back Marshawn Lynch. You may remember that during his Super Bowl postgame interview Lynch answered every question, no matter the subject, with "yeah." (He was upset over the coach's controversial call to not run the ball in the last play of the Super Bowl. The ball was picked off by New England to win the game.)
Charney was watching that interview late one night and wondered if Lynch would talk to Progressive since he basically wasn't talking to the media, but had gained lots of attention with his one word "yeah" responses. He made a few calls, got a "yeah" from Lynch and jumped on a plane to shoot the spot the next day. Progressive pushed out the video 1 hour before Super Bowl Media Day with spots in 17 local markets. Lynch donated his fee to charity.  Take a look at the video:

"It went crazy," he said. "You hope and pray for these things."
Charney also played a video that shows Marshawn taking a jab at coach Pete Carroll for that controversial call, which entertained the crowd.
"You can't judge a brand, by just what it is," he says.
Distributing disruption
"Disruption is alive and well in marketing," Charney said. "If you don't disrupt you're wasting your money. You have to get something sharp out there. It will cut through."
As an example, last year Progressive created a character that blended Lebron James and Flo around Halloween. The character existed only on social @flobron and got 450 million impressions. And last week at ComicCon, known for its time-wasting long, long lines, Progressive offered "Line Insurance." People who used the #LineInsurance found a mythical character, the "Protector Corns" prancing out to their rescue and watch their place in line for them so they could do something else.
"Look for simple things," he says. "Problem/solution based marketing."
As for firing yourself, Charney, every 16 and 18 months looks in the mirror and fires himself then gets in his car and drives to the office.
"I'm going to replace Jeff Charney as Jeff Charney and start with a clean slate," he said. "It is a scary thing to my staff. I am pushing harder and smarter because I have no barriers. Try it. Do something different. Be brave. It will be very cathartic. You will be reinvigorated."