Ivan Pollard out at Coke as CEOs Search for "Whole-Brained" CMOs
By now it's old news that Coca-Cola eliminated the role of CMO—former CMO Marcos de Quinto is now enjoying retirement after 40 years with the company. But just this week Ivan Pollard, senior vice president-strategic marketing, left abruptly after six years.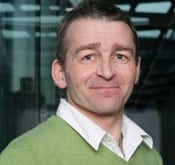 The shake up is likely blamed on the massive sales fall off over the last four years as consumers switch from sugary beverages to water and other more healthy choices. But Pollard's departure is also indicative of a wider strategy to reorganize marketing departments, with about a third of CEOs planning to fire CMOs this year, Forrester reported. The reason? CEOs are in search of  "whole-brained" CMOs that use both the right side of their brains (which designs experiences to engage customers) and the left side (which master technology and analytics) to deliver personalized, contextually rich experiences.
"We predict that CEOs will exit at least 30% of their CMOs for not mustering the blended skill set needed to drive digital business transformation, design exceptional personalized experiences, and propel growth," Forrester said in its report, "2017 Predictions: Dynamics That Will Shape The Future In The Age Of The Customer."
Just three-to-six short years is now the average CMO journey, a report from Korn/Ferry found, a real problem when you look at the $1 trillion spent on marketing compared to a bleak 2% overall growth rate among U.S. consumer companies. CMO churn is hurting the bottom line, Forbes reported.
With the knowledge that they only have a short amount of time to prove themselves, CMOs strategize short-term marketing initiatives to prove their worth, but that doesn't necessarily benefit a company's longer-term growth plans.
The CMO churn rate is also a product of the difficult business challenges that many companies face and CEOs' decisions about C-suite level management changes based on quarterly results alone.
Companies like Coca-Cola and The Hershey Co. are replacing the CMO role with a chief growth officer. Coca-Cola is combining marketing with its customer and commercial teams and has hired Francisco Crespo to fill the CGO role.
More changes at Coca-Cola lie ahead as it plans to further restructure Coca-Cola North America strategic marketing in the coming weeks. Read the article …
Related articles: