Influencer Manager: A New Role at Publishers
As influencer marketing flows into the mainstream, a new role is emerging for publishers: influencer manager.
The duties of the role can vary from reaching out to develop influencer relationships to strategizing and developing brand content to tracking mentions and ROI of the partnership.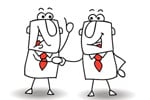 There is no question that influencer marketing has become a standard component in the marketing mix for many brands. Some 60% to 70% of the largest advertisers are using influencer marketing and total brand spending on influencer marketing was projected to reach $81.3 billion last year, up 6.7% from $76.19 billion in 2015, according to a study from ANA and PQ Media.
Salaries can be attractive ranging from $40,000 for a junior slot to $150,000 for a senior position, according to Digiday.
As an example, a search on Glassdoor jobs pulled up 10 influencer marketing manager jobs in New York City. One post from Coach is for a director, social & influencer marketing that pays an estimated salary between $85,000 and $149,000. The responsibilities include identifying and developing relationships with key bloggers and online influencers as well as developing global influencer marketing strategies among a long list of other roles.
And while publishers may be the latest industry to hire influencer managers, many other brands have been working for years to streamline and fine-tune their strategies and executions with influencers.
AXE recently hired 30 AXE Hair Creators to show guys that styling their hair can be simple and improve confidence. Marriott has partnered with four high-profile social influencers to host episodes on Snapchat that, not only show off some of its properties, but bring attention to the benefits of joining its Marriott Rewards program.
Brittany Burke manages influencers for Time Inc. and works with the 100 influencers in the company's first influencer network, Connect. She shares what the job entails. Read the article …
Related articles:
How to Use Influencers to Improve Eroding Brand Trust
How to Turn Paid Influencers into Real Marketing ROI
Six Reasons Brands Should Use Health & Wellness Influencers