How Coca-Cola Turned a Romanian Music Festival into a Fashion Trend
Transylvania, known to most Americans only as the home of the immortal Count Dracula (in his countless television and film incarnations), was also home to The Untold Festival, one of 2016's best music events, according to the European Festival Awards.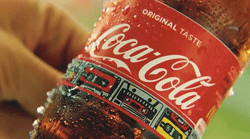 That's why Coca-Cola elected to partner with Untold and other music festivals in Romania to promote sales through a unique packaging giveaway stunt. Customers would receive a chance to gain entry to the festival via a wristband attached to individual bottles of Coke. Simply detach the wristband, scan it with a custom app and learn if you are a winner.
What began as a "gift with purchase" sweepstakes campaign, took off in a surprising way as teenagers started wearing the wristbands as a fashion statement, win or lose. The campaign ended up reaching 75% of Romanian teens, the scanning app to determine if you won went to #1 on the charts and the promotion led to a sales bump of 11%.
Of course, the intersection of brands and music is nothing new but the outsized success of the promotion raises two important questions: Is this a marketing trend that could catch on, and could Coca-Cola bring this idea to the U.S.? The answers are yes, and, possibly.
American teens have been conditioned since birth to seek out a "prize" in their grocery store and fast food adventures. It wasn't that long ago that these same teens were fishing toys out of cereal boxes and selecting their lunch based upon the prize that resided in their happy meal.
Marketing is about relationships and this promotion builds a relationship with the consumer in 3 key ways:
1. The association with entertainment and the connection to memorable experiences in music.
2. The brand is giving the consumer a chance to win something with high perceived value.
3. The brand is giving a cool physical item that's a fun fashion statement, and with 8 different choices, each teen can express his or her individuality. All in all, it's a pretty good deal in exchange for buying a soda.
And, yes, let's bring it to the U.S., if you can get past a few hurdles.
One caveat is that all of Romania is only one-third the size of Texas, so Coca-Cola will need to consider access to multiple events when looking at distribution for a similar campaign. A national campaign could lead to some frustrated consumers who would have to travel a long way to get to Coachella or Bonnaroo.
In a larger sense, however, this style of marketing (direct-to-consumer, unique brand packaging) can be a powerful selling point to a highly-targeted demographic. Powerful, because brand preference is crucial in the soda space, as evidenced by the long-standing battle between Coke and Pepsi. When a consumer approaches the soda case at the local store, this promotion gives the brand and their product a competitive advantage against all other beverages. Yes, they're all cold and they quench thirst, but this one is giving you a chance to win, plus a free bracelet. In a 50/50 scenario, the brand running this promotion will be a big winner.
Additionally, the promotion creates value for the brand down the line. By requiring the download of an app to scan the wristband to determine if you are a winner, Coca-Cola establishes a direct line to the phones of their target market. The application will be a valuable communication device moving forward, supplying a treasure trove of data that can be used for future marketing endeavors.
Benjamin Hordell is a partner at DXagency. He can be reached at [email protected].
Related articles:
Coke Turns Labels into Wristbands for Music Festivals