Coke Turns Labels into Wristbands for Music Festivals
When Coca-Cola discovered that not many teens were drinking Coke in Romania—40% had not tasted Coke in the last month—but that most of them attended at least one festival last summer, it used those insights to take action.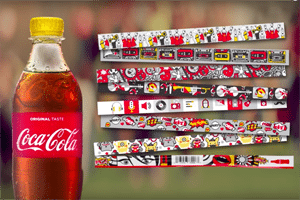 The solution? It partnered with its agency McCann Bucharest, and the two came up with a clever packaging innovation. A detachable label on Coke bottles doubles as a wristband for possible entrance to popular music festivals. Millions of the "Festival Bottles" are on store shelves nationally with eight different wristband designs that carry a barcode. Customers download the Coca-Cola app to scan the code to find out if they have won. If so, the Coke wristband is then used to allow entry to some of the largest music festivals in Romania, including Untold, Romania's largest electronic music festival based in Transylvania.
According to McCann, the campaign certainly has some fizz. There were 117,712 unique users in the first month and the Coke wristband campaign has already outperformed the leading Coca-Cola promotion in Romania by 27%, the agency says. And just as impressive, sales have jumped 11% and the bands have become fashion statements, according to news reports.
Coke is a packaging innovator. As a few examples, its successful "Share a Coke" campaign replaced the iconic Coca-Cola script on bottles with 150 of the most popular names and encouraged fans to "Share a Coke." The campaign marked the first time that Coke script had been replaced. The brand has stamped lyrics on cans to encourage people to sing and has marked up cans with wording for summer destinations like Barbados, Hawaii and Bali. Warren Buffett's likeness emblazoned cans of Cherry Coke, which he is known to enjoy as his company, Berkshire Hathaway, is Coke's largest shareholder. Read the article …
Related articles:
In New Campaign, Coke Pairs Beverage with Paella and Lobster