Facebook's Mark Zuckerberg Apologizes for "Exploiting" Disaster in Puerto Rico
There appear to be quite a few brand apologies going around. Facebook is on deck.
Facebook CEO Mark Zuckerberg said Tuesday that he was sorry after Facebook used the devastation of Puerto Rico by hurricane Maria on Sept. 18 to advertise the company's new virtual reality platform.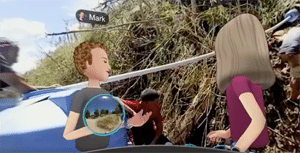 The nine-minute, live-stream video uses avatars of Zuckerberg and Facebook's head of social VR Rachel Franklin to showcase the new social app, Facebook Spaces. He also discusses Facebook's partnership with NetHope, a consortium of nonprofits and tech companies that Facebook previously collaborated with in response to the Ebola crisis in West Africa, and American Red Cross to restore connectivity and rebuild communities. Facebook split a donation of $1.5 million between the two entities.
Despite the criticism that Zuckerberg was exploiting the disaster, he has also been providing aid. He sent a "connectivity team" to the Island to provide telecommunications support.
"One of the most powerful features of VR is empathy," the 33-year-old CEO said. "My goal here was to show how VR can raise awareness and help us see what's happening in different parts of the world."
"I also wanted to share the news of our partnership with the Red Cross to help with the recovery," he added. "Reading some of the comments, I realize this wasn't clear and I'm sorry to anyone this offended."
Earlier this week, Dove ran a video showing a black woman removing her top to expose a white woman who removes her top to show an Asian woman. The video loops over and over. It went viral and the naysayers called it racist. However, a truncated Twitter version may have been the culprit for the outcry.
Related articles:
Why Didn't Adidas Learn from Past Gaffes?
The good, the bad, and then there's Pepsi and Kendall Jenner