Dove, Stick Up for Yourself
Sometimes I think brands are to quick to be intimidated by negative feedback when releasing new marketing or ads that come under scrutiny.
The latest is Dove.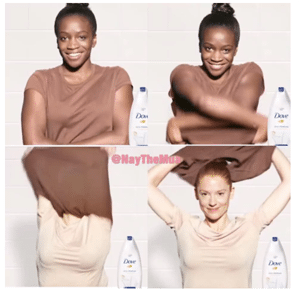 Most of us have probably seen the video by now. It shows a black woman removing her top to expose a white woman who removes her top to show an Asian woman. The video loops over and over. It went viral and the naysayers called it racist.
I got the message. That Dove is for all skin types. It seemed clear to me. I like the video. I asked my 22-year old niece to view it. She said the video was truncated when it went viral on Twitter and only showed the black and white model and that caused the ruckus. People weren't viewing the complete ad and that altered the message.
Even the black model, who is being called "the unwitting poster child for racist advertising," said in a post by the Telegraph that the video had been misinterpreted, that she is not a "victim" and that she "enjoyed" making the video.
Dove pulled the video and said: "An image we recently posted on Facebook missed the mark in representing women of color thoughtfully. We deeply regret the offense it caused."
The model, Lola Ogunyemi, said Dove should have "defended its creative vision." I agree.