Explainer Videos Boost Tylenol Sales at Walgreens
After a 2009 recall for Tylenol Rapid Release Gels, it was time to get the brand back in the market and mobile, combined with video, were the channels of choice.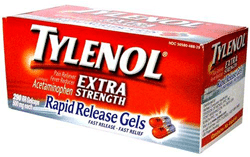 Shopper agency Upshot worked with the brand on an integrated campaign to get people into Walgreens—and hopefully purchase the product, AdExchanger wrote. Mobile ad platform Aki Technologies was brought on board to crunch data signals to pinpoint consumers in various trigger moments, such as running an errand, working out or within reach of a Walgreens store. It found strong engagement targeting consumers who had just worked out. Traffic app Waze was also tapped to direct consumers to the nearest Walgreens.
Once in stores, consumers found in-store messaging, including an end-cap video explaining how the Rapid Release Gels work. More than 2,500 stores featured the video and those stores saw a 9% to 10% lift in sales. The video also ran for 12 weeks on YouTube, the report said.
Video is big business
The U.S. digital video marketing industry is expected to reach $135 billion this year. In contrast, advertisers are expected to spend $83 billion on digital ads and $71 billion on TV commercials in the U.S. this year, according to a new report from Magisto.
In general, each American business will spend $20,000 on video marketing in 2017 and 84 percent of marketers intend to create more business videos. Some 60 percent of businesses spend more than 25 percent of marketing budgets on video with 64% creating video content internally.
"Advertising is no longer perceived as information, but rather as part of a growing slush of white noise. Video narrative offers businesses authentic and renewable currency, a way to create value in the attention economy," the report said.
Interestingly, Generation X appears to be driving the video revolution.
Marketers From Generation X are 40 percent more likely than Millennials to spend on business videos and 60 percent more likely than Millennials to create business video daily. Magisto, a mobile video platform, surveyed more than 500 marketing decision makers in the U.S. at small, medium and large businesses.
"Done correctly, video has the scale of television, the precision of digital marketing and the power of authentic story. Businesses are using video to distribute their messages in ways that contribute real value to the attention economy and, as a result, is becoming a fiscal economy unto itself," the report concluded.
Related articles:
Teaching the Masses What Bud Light is Really All About
9 Simple Ways Explainer Videos Can Move Sales