Entertainment Weekly and Dove Partner for Peel-Off AR Cover
Entertainment Weekly and Dove have struck up a partnership for an augmented reality campaign.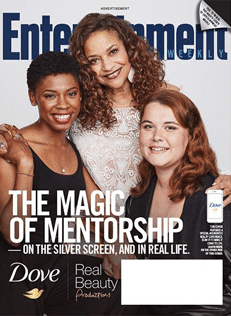 Dove is sponsoring peel-off magazine covers enabled with an augmented reality video. The deal includes three issues of the magazine, beginning with the May 25 issue. The peel-off cover units are a first for both brands.
Entertainment Weekly has tested AR before both in its editorial coverage and on a cover featuring Dwayne "The Rock" Johnson. The tests performed well enough for the brand to move forward with a partnership with Dove, Mediapost reported.
---
More on AR:
---
Mediapost said that, "Dove's campaign spotlights the release of its latest film created by its production arm, Real Beauty Productions (RBP) film. Directed by Debbie Allen, the film features Chelsea Harris and Caralyn Singleterry discussing the impact of bullying on their self-esteem and how the Dove Self-Esteem Project can help build confidence."
All three women are featured on the peel-off cover of the Entertainment Weekly issue.