Emails We Love: Etsy Creates a Boutique in the Inbox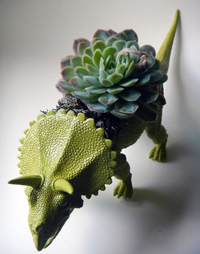 One of the great things about Etsy.com is that its chock full of things you never knew you desperately needed, like antique green rhinestone necklaces, or planters made from repurposed plastic dinosaur toys.
But unless you're looking for a very particular niche, or a favorite artisan's work, browsing Etsy can be a bit daunting. Where is one to start? The site's daily email blasts solve that problem nicely.
Each email is designed as an eclectic mini-bazaar or boutique. The topic centers around a simple idea, and takes off from there. For example, the two items mentioned above come from a recent email with the subject line "Emerald City." Following the headline "Take me down to the Emerald City" are a number of, you guessed it, green products, in honor of the fact that the birthstone for May is the Emerald.
There's the expected jewelry items, as well as gifts for green thumbs and earth-friendly recycled "green" items. And then, there's also stuff that, well, is just green, ranging from knit frog hats for babies to sparkly green nailpolish to green dresses in a variety of styles. The mix is eclectic, but it works, giving the feeling of a really hip boutique.
Other recent emails that worked well included a "Weekend Warriors" edition, filled items for travelers (like bags and journals) and those who like to stick closer to home (gardening tools, cooking and canning wares, craft supplies and picnic accessories.)
An email with the subject line "Cabin Fever" turned out to be actually about outfitting one's summer cabin, with whimsical decor, a variety of wood grain-look items (including sunglasses, iPad cases and whisky flasks) and rustic tableware. Outdoor wedding and bohemian styled fashion was also featured.
The emails do an excellent job of engaging the reader with a wide range of the site's offering, and encouraging shoppers to dive in, browse and buy all those handmade items you just know you go another day without owning. Blue, white and green decoupaged wall-mountable deer head anyone?