Direct Mail Helps EyeMed Get Seen By Prospects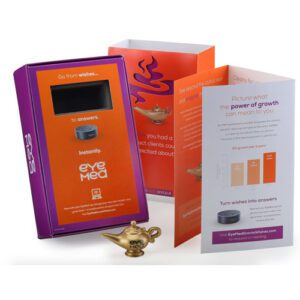 EyeMed is one of many brands turning to the old school tactic of direct mail to engage modern B2B buyers.
"We use it throughout the whole customer journey," says Scott Kosinski, regional vice president of sales at vision benefits provider EyeMed. "It's a critical part of connecting with prospects."
Direct mail use has been on the rise, in many ways because of its consistency, says Bruce Biegel, senior managing director of the Winterberry Group. "It's one of the more predictive formats. If I know that generally mailing pieces get me a two percent response rate and that leads to an X conversion rate, I can take that to the bank."
"If marketers are not using direct mail, they're missing out on a huge potential channel to remain relevant," particularly as part of a larger account based marketing strategy, notes Naomi David, marketing manager, demand gen, at Walker Sands.
Direct mail can be very effective as part of an integrated strategy, in combination with email and other touches to warm B2B prospects before sales contacts. Smaller campaigns to more highly targeted lists are often the way to go, says David, because of the high costs of paper and postage.
One aspect of direct mail that people sometimes forget is that unlike a phone call or a digital ad that pushes itself on a prospect, a direct mail piece puts the power in the hands of the recipient. "It doesn't disrupt the user experience," says Lewis Gersh, CEO of Pebblepost. "They come back to you when they are ready. It's incredibly respectful of the user dynamic between brand and purchaser."
EyeMed—a division of Luxottica Group, the parent company of eyewear brands like Ray-Ban, Oakley, Pearle Vision and Lenscrafters—has over 52 million members across the U.S. who belong to group benefit plans. Direct mail figures into the company's plan both for prospecting and as part of account based marketing programs with large clients and insurance brokers, to encourage them to promote the provider to their customers, says Kosinski.
---
You May Also Enjoy:
---
Digital retargeting is often done first, prior to direct mail, to help verify the lead before it goes into a drip program to nurture the customer. Direct mail is always part of an integrated campaign.
"Good marketing rarely goes out of style," he says. "We're competing for the attention of the same contacts with over 100 other companies, and a well-designed mailer and offer helps you stand out from the crowd."
"You need to be authentic in your message and not just send a generic postcard," agrees Ashley Jorgensen, marketing director, Mailing.com, noting that marketers are diving deeper into data to fine-tune their direct mail messaging. "Put time and energy into understanding what your offer should be."
While postcards might be used early in the buying cycle to help qualify a lead, dimensional mailers designed to intrigue prospects are more commonly used. EyeMed works with Milwaukee-area B2B agency Responsory to create its direct mail campaigns. Often, the mailers include a small premium, with the promise of a larger offer if the prospect takes a meeting. For example, a toy magic lamp was sent in one campaign. Those who set up a meeting received an Amazon Alexa for their time. The Alexa came installed with an EyeMed app to carry on the branding.
Direct mail ROI is tied to the overall response rate of a campaign, and how many meetings a piece generated for the sales team. If someone responds to direct mail, they are often more likely to ultimately do business with EyeMed. In the past four years, it isn't uncommon for the company to hit response rates as high 45 percent with its direct mail campaigns.
Kosinski notes that to engage prospects, direct mail offers need to be intriguing and engaging.
"You have to find something unique of value that promotes your brand," he says. "There's nothing unique about getting a coffee cup in the mail. You have to find something compelling and tie it to your brand."
Because so few brands are effectively utilizing direct mail today, the channel presents a great opportunity for marketers who get it right.
"I don't get a lot of direct mail. I get a ton of email. I get bombarded everyday with people trying to call and sell me something and I guarantee that I will never take a cold sales call," he says. "But it's rare that I get something in the mail and I will always open a package. Who wouldn't? Curiosity compels you. You always want to know what is inside."
When done well, direct mail can be an incredible influencer of brand perceptions, he adds. "Deep down inside, I believe people want to be inspired. Or they just want a break from their typical day. When something cool and interesting comes across your desk, you remember it positively. That's the power of dimensional direct mail."