The Digital Recipe for Marketing Food
By Gene Tiernan
It's no secret that food is inherently social. Ask anyone about their favorite meal, what they plan to serve at a party, where they are dining out this weekend, and you'll get a story, an opinion and a description of the food and the experience.  You may even hear a personal anecdote, an offer to share a recipe or a recommendation for what you must try.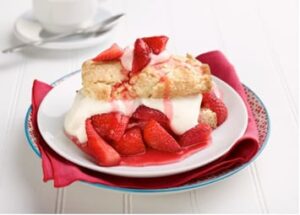 Consumers love food. Therefore, marketers have a wealth of consumer enthusiasm to tap into and many ways—particularly in digital channels—to spark conversations around their products and services.
What ingredients are required for a marketer's recipe for success? We must consider how consumers have incorporated digital into their food repertoire, from how they seek information to how they share and make recommendations to their personal networks.
Digital channels provide unprecedented access to food-related information. Consumers use search functionality to find information (i.e. nutritional, recipes); they read, watch videos, post images and engage in discussions on social channels.  If they have specific needs (i.e. allergies, diabetes), they leverage digital channels to learn what they need to know.
Recipe search is one of the most popular consumer activities on the web, and there is no shortage of recipe sites, apps and sources for consumers to choose from. In fact Google, often the default starting point for consumer recipe searches, continues to evolve its recipe search functionality, which changes the way consumers search for and find recipes. Google's functionality allows consumers to drill down into recipes through criteria such as ingredients, cook time, calories as well as nutritional info consistent with what you would find on a packaged product (based upon National Labeling and Education Act guidelines).
How can you ensure your product, brand or recipe stands out from the crowd? Our focus groups have indicated that there are some critical components to get noticed by consumers in search: a delicious-looking image, an appealing recipe name, a compelling description and a high consumer rating.
Search is only the beginning. There is also a great deal of utility at consumers' fingertips to enable recommendations or sharing of information.
Within recipe and brand sites themselves and their accompanying apps, there are often basic consumer tools available that add validity to a particular recipe's value. Such tools are usually in the form of ratings and reviews.  Using our focus groups and consumer behavior analysis as a baseline, we can clearly say that ratings play a significant role in helping consumers fine-tune their searches as well as improving search engine placement for recipes. Reviews may not be viewed as frequently as ratings, but for consumers seeking more information and insights, they're invaluable to the recipe experience.
Social shareability is also key. Providing consumers with the ability to easily share recipes online creates talkability that validates a recipe's value. Marketers need to make all recipes or food information sharable via channels such as email, Facebook, Twitter, Pinterest and others. Once a consumer shares a recipe with a friend or community, the recipe takes on a life of its own. It receives "likes," starts conversations, gets forwarded again, gets pinned and becomes a part of community.  For this reason a compelling image, recipe name and brief description are as critical in sharing as they are in search.
Devices play varying roles in consumer interaction with recipes.  Consumers often use laptops differently from tablets differently from smartphones. Recipe exploration may happen during dwell time while a consumer is riding mass transit, or through search while preparing the week's shopping list or as an old-time recipe book on the counter right where the food is being prepared.  In each case, presentation of images, font sizes based upon reading distance, access to video tips and techniques all play a role in the consumer recipe experience, and therefore in the ways brands may serve consumers.
Whether it's information (search) or recommendations (social) that consumers seek, it's essential that food marketers have a strategy, or recipe, to engage and excite their target audience across the digital ecosystem.  Food is experiential. Whether planning a meal, preparing it or enjoying it, consumers benefit from brand experiences that enhance their enjoyment of meals. Food's inherently social nature can be paired with digital and social to amplify marketing and help turn "bytes" into "bites" as never before possible
Gene Tiernan is EVP/group director of Epsilon's Ryan Partnership.