Condoms, Underwear—Latest Categories to Use Amazon Dash Button
Back in March 2015, Amazon debuted its new thumb-size Dash Button that allowed Prime members to easily and quickly reorder everyday products they use regularly, like Tide laundry detergent, Maxwell House coffee or Cottonelle toilet paper.
To make life even simpler, branded buttons could be hung near the product for quick reorder. For example, a button branded with Tide could be attached to the washing machine so the consumer need go no further than their laundry room to have a new order of Tide appear on their doorstep within days. Ingenious or an April Fool's joke? Time would tell.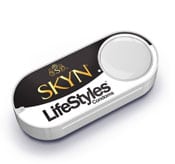 Well, that time is here and Dash appears to be a boon for Amazon, ranking as one of its fastest growing services—albeit it started from scratch.
By July 2016, 50 new brands had joined and including Campbell's Soup, Cascade, Clif Bar, Dial Liquid Hand Soap, FIJI Water, FoodSaver, Pepperidge Farm Goldfish Crackers, Hubert's Lemonade, Lavazza, Mentos, Nutiva and Puffs.  The categories also expanded beyond everyday purchases to include toys and musical equipment from brands like NERF, Play-Doh and D'Addario.
"In just the last three months, total Dash Button orders have grown by 70%, with order frequency doubling and Dash Button orders now occurring over twice a minute; for many popular items, more than half of Amazon orders are now made via Dash Buttons," Amazon said at the time.
The company said this morning that a year ago, orders were coming in via Dash Buttons more than once per minute, and now that rate has increased to more than four times per minute, Techcrunch reported. The latest brands to join the 300 others in the portfolio Dash Button program include Caza Trail, CeraVe, Lifewater, Listerine, Sparkling Ice, Treehouse Kids, Tylenol, VOSS, Zyrtec, and others. Amazon also said that it signed its first fashion brand Dash Button for Calvin Klein—underwear.
Amazon also said that a variety of brands are now seeing more than half of Amazon orders for popular items placed via Dash Button devices, including All Laundry Detergent, Folgers, Gain, Glad, Pepperidge Farm Goldfish Crackers, Persil, and Ziploc. For example, for the 46.5-ounce All Liquid Laundry Detergent, 10.3-ounce Folgers Medium-Dark Roast Ground Coffee and 40-count Glad OdorShield Tall Kitchen Drawstring Trash Bags, more than half of Amazon orders are placed via Dash Button. Read the article …
Related articles:
Redesigned Website Boosts Hilton's Mobile Search
Mobile Forward Design: The Next Step After Responsive Design