Redesigned Website Boosts Hilton's Mobile Search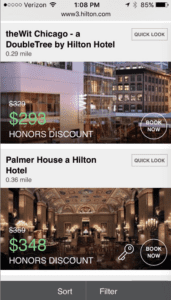 A newly redesigned website optimized for mobile search is helping Hilton connect with travelers on the go.
Hilton recently moved its website to a new CMS and went through a complete site redesign, not only to optimize for mobile but to feature new corporate branding (shifting from "Hilton Worldwide" to simply "Hilton," and "HiltonHonors," instead of "Hilton Hhonors"), said Melissa Walner, head of global SEO, Hilton, at Stone Temple's recent Next10X event in Boston.
The hotelier had one of the first corporate hotel websites in 1995, and was still using some of the same site architecture, meaning an update was long overdue. With the size of the company's brand portfolio—4,927 hotels spread across 14 brands—things can't always happen quickly, Walner acknowledged.
"We were moving an aircraft carrier, not a speedboat," she said.
There was significant motivation for the company to improve its web presence. As Walner notes, things that move conversions by even a fraction of a percent can translate into revenue in the hundreds of thousands of dollars.
Making the site mobile responsive was crucial. While the majority of travel bookings still occur on the desktop, many searches happen in mobile. In the last year, according to Google, conversion rates have grown 88% on mobile travel sites. And, a whopping 85% of non-branded hotel searches for stays that very day happening a smartphone.
Indeed, Google Maps is actually the most searched travel site, because travelers are often looking for something near a specific location. This is why having the right address in the system for your property is vital, she said. This can be an issue for many hotels, which might have multiple business listings in one hotel property, such as stores, spas, restaurants or gyms.
"Multiple businesses with [the same] address in Google equals 99 problems," she said. "They hinder the view of each other in local map results."
Adding a suite or floor number to the addresses of different businesses in your property can improve results tremendously, Walner notes. In fact, having these addition businesses and other amenities ranking high in mobile searches can help your property tremendously. Why? When travelers are planning where to stay, over 70% of specific hotel amenity searches occur on mobile phones. "These can be the deciding factor."
For example, parking is a key selling proposition for hotels close to airports and cruise terminals. "All hotels in those areas have a package that they offer, and its often cheaper than parking at the airport," she said. "Develop informative content targeting customers searching for this amenity to increase your visibility in mobile results."
Related Articles:
10 SEO Tips for Site Redesigns
Key Questions to Ask About SEO Before Buying a New CMS
Mobile Forward Design: The Next Reponse After Responsive Design