Chicken of the Sea Puts Gamification in Play to Sell EZ-Open Cans
Who says canned seafood can't be fun?
Chicken of the Sea claims to be the first mainstream brand in the shelf-stable seafood category to develop an easy open lid … and it is celebrating that innovation and consumer convenience with a media campaign supported by an online instant-win game.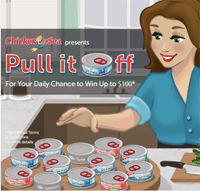 Pivot Point Marketing was brought in to show off the functionality of the easy-open lid as fun, despite its slightly higher price for the convenience.
The agency and its partners—Active Ingredients, Amusement Park, The Gaming Agency—designed an instant-win, interactive game played through Facebook where seafood lovers can earn rewards when they "Pull it Off"—or pull the lid off the can.
The "Pull It Off" game was designed strategically around the pull-tab innovation and features a virtual kitchen setting where players try to grab a Chicken of the Sea can as it revolves around on a Lazy Susan. Players can play once per day with three chances to grab the cans and attempt to "open" the cans of tuna or salmon. It was live from Oct. 13 to Nov. 12.
"We wanted a highly entertaining and engaging campaign to drive awareness of our new EZ-Open products," Maureen McDonnell, director of marketing at Chicken of the Sea, says. "Our research indicates that consumers see convenience and time savings as key purchase considerations for seafood."
The game, launched to coincide with the retail availability of the EZ-Open cans, is supported by awareness-driving print ads and trial-driving in-store shelf disruptors with a budget between $100,000 and $250,000. Food and family bloggers and influencers are also part of the mix, encouraging their audiences to create and share easy recipes using seafood in Chicken of the Sea EZ-Open cans, that may be posted on the Chicken of the Sea Pinterest page.
Players get the chance to win more than $25,000 in mobile gift cards. The non-winners receive a healthy recipe—featuring Chicken of the Sea tuna or salmon, of course—to drive further engagement and brand awareness.
Total game plays have reached over 200,000 so far, with more than 95,000 unique players. Engagement and web traffic has increased 473.28% and traffic from social platforms to the Chicken of Sea website is up 9,629%. As a result of the game, consumers are spending over 10,700 hours engaging with the brand each week of the campaign. Most importantly, sales of Chicken of the Sea EZ-Open products are on the rise.