Bud Light "Strike Gold" Sweepstakes Offers Super Bowl Tickets for Life
It's the Willy Wonka of beers.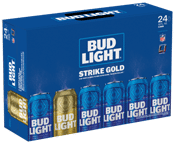 Bud Light has kicked off an on-pack sweepstakes offering Super Bowl tickets for life to one lucky person who finds a golden can of Bud. There are chances for other winners too.
Some 37,000 gold cans are packed inside 18-, 24- and 30-ounce packs of Bud Light with messaging and details about the "Strike Gold" Super Bowl contest. Weekly winners get a pair of season tickets to their favorite team, but the big prize goes to just one winner. Bud Light is the Official Beer Sponsor of the NFL. The content is administered by HelloWorld.
"All season long, Bud Light has celebrated the most passionate and dedicated fans that the NFL has to offer, and as the playoffs approach, we want to see fandom turned up another notch," said Anna Rogers, director of NFL partnerships and strategy, Anheuser-Busch. "Most NFL fans likely won't see one Super Bowl in their lifetime, so we figured what better way to reward one of the NFL's biggest fans than by giving him or her tickets to the big game for the rest of their life."
Related articles:
Bud Makes Beer "Great Again"
Bud Light Flip Flops on Equal Pay