BNY Mellon Takes Their Shot With Hamilton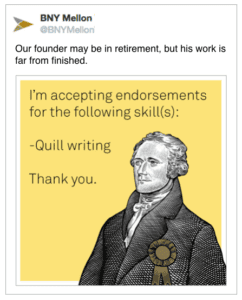 BNY Mellon is leveraging its connection with Alexander Hamilton to capitalize on the founding father's newfound pop culture hero status.
Hamilton founded The Bank of New York— now BNY Mellon—234 years ago. Hamilton was a man of firsts—he helped found the U.S. Mint and the Coast Guard—and the bank is a company of firsts as well, being the first company traded on the New York Stock Exchange and the first to launch a mobile securities trading app.
As the Broadway musical "Hamilton" became a cultural phenomenon, it was a no-brainer for the bank to capitalize on its connection. "He's the Broadway star of finance," says Aniko DeLaney, global head of corporate marketing, BNY Mellon, speaking at ANA Masters of B2B in Chicago this week.
The company, which serves 77 percent of the Fortune 500 and has $1.9 trillion in assets under management—wanted to use new media to tell its brand story, and celebrate why it is relevant to clients.
"Think about your own firm and your legacy—what are milestones you can celebrate and bring back?" she says.
There were the obvious moves, such as tweeting in Hamilton's voice, and doing a series of tweets around the show's record setting 16 Tony nominations in 2016. But the brand also needed to position not just how important Alexander Hamilton was in the U.S., but in the 35 countries around the world where the brand operates.
When a production of Lin Manuel Miranda's musical opened in London's West End last December, a social media campaign specifically geared to Europe was created. The image of Hamilton on the 10 dollar bill was used, because it was so globally recognizable. "We didn't want to be too U.S. centric," notes DeLaney.
---
More From ANA Masters of B2B 2018:
---
The brand has created several engaging experiences using Hamilton, including online quizzes about his legacy, with both U.S. and European versions. As a tie-in with International Women's Day, the bank crafted creative on the accomplishments of Eliza Hamilton, Alexander's wife. The orphanage she founded is now a family services agency called Graham Windham, which is still supported by BNY Mellon.
The pop culture buzz of Hamilton has been leveraged in numerous ways. An AR/VR app, created initially to help launch an innovation center in Singapore used filters to put people in selfies with Hamilton, or their own faces on the $10 bill. And, on PBS, BNY Mellon sponsored the making of "Hamilton" documentary.
Beyond the Broadway connection, BNY Mellon works to connect with B2B audiences via social. Employees are encouraged to be thought leaders on LinkedIn, and create robust social personas there that will serve as their online business card. It took a while for many of the sales team to understand how important their personal brands were, she says. Once they realized that their clients were looking them up n the site, it suddenly made sense to them. One senior sales exec who was reluctant about the site connected with friends from high school and college a week after his page was improved—and found out these old friends are now in c-suite roles at prospect companies.
The company encourages reps to share not only company content in social media, but other relevant articles from outside sources as well. "If you can be a great filter on a key topic, people will appreciate that," she says. "Allow employees to express themselves and share their experiences."