American Express Tackles Seahawks Home Games with Experiences
The Seattle Seahawks will take on the Los Angeles Chargers on the Seahawks' home turf on Nov. 4, and American Express will be there ready to engage card members and fans with experiences to fuel fandom mania.
The experience is the third in an expanded campaign with the team this season, a partnership that began several years ago with a few tent-pole activations. Now, American Express is setting up at every home game with the 2,500 square foot American Express Experience.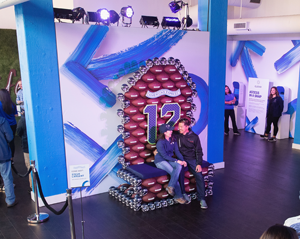 Visitors are greeted with the "Hawks Throne,"the gateway to the brand's experience which was built with team helmets and sets the stage for photo ops. There are meet and greets with Seahawks legends, like Steve Largent who was on hand for the first home game, and Ben Obomanu who attended the second.
"This year we wanted to think about an innovative way to be there for fans all season long and to do something before every single home game," says Lisa Kahn, director of global experiential marketing and partnerships at American Express.
Local artists, hand selected by American Express, created murals and interactive stations like "Wings of Their Own," where fans are asked how long they have rooted for the Seahawks, then write their answers on "feathers" that are then attached to a mural to create a gigantic replica of the Seahawks wings logo.
As the season moves on, some elements of the American Express Experience will remain consistent, like the throne, while others will change up with each new home game, including appearances by different Seahawks legends.
---
Articles you might enjoy:
---
"This idea came out of creating a pop-up to offer elements that would be consistent week over week, but that would also change to get people excited to come back," she says. "By partnering with different players every week, that will help garner excitement as fans are on the way to the game."
Another refresh for each game is through partnerships with local merchants that accept American Express to rotate in various food items. So far, Macadons served its macarons and Trophy Cupcakes offered cupcakes, all decorated in the Seahawks colors of blue and green. At the upcoming Nov. 4 game, Top Pot Doughnuts will be on hand with its doughnuts.
"This is a way we can add value to our merchant community by helping them get exposure," Kahn says.
There's also a Seahawks Pro Shop pop-up offering discounts on merchandise.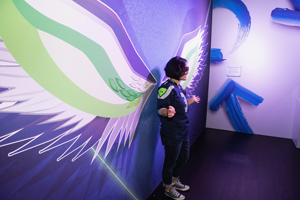 American Express has partnered with the Seahawks for the past several seasons testing activations and different elements. In the past, it typically staged two tent-pole activations—dinner on the 50 and Hawks Island.
The pre-season dinner was held for 400 season-ticket holders that were cardmembers on the 50-yard line supported by local merchants and Seahawks talent.
Hawks Island was a built on a 200-foot barge in Puget Sound, with the idea coming straight from an insight that card members wanted a place to party pregame. Several hundred card members and American Express-accepting merchants enjoyed drinks, a DJ and plenty of team player sightings.
"It was massive and looked like a football field," Kahn says.
To market the home game experiences, American Express is targeting Seattle card members with digital ads, Instagram videos, and  integrations with Seahawks and American Express channels, telling cardmembers to bring their cards and stop by for special offers.
"These partnerships give us the ability to leverage local teams and highlight fan passions and pull in unique activations to showcase what we can do to back card members experiences in what they love," Kahn says.