9 Tips for Optimizing Your LinkedIn Presence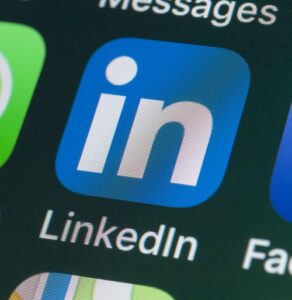 For many people, the bulk of their LinkedIn activity is the digital equivalent of collecting a pile of business cards. But those with the savvy to turn their LinkedIn profile into a resource for visitors will make meaningful—and profitable—connections.
"It takes a lot of steps, but if you make your LinkedIn presence a useful resource, you can connect with people on a personal level," says Patrick King, founder/CEO of Manassas, VA-based marketing agency Imagine.
LinkedIn can be an incredibly valuable resource for B2B marketers. Seventy-four percent of respondents to Chief Marketer's annual B2B Outlook Survey said LinkedIn was their most effective social channel for B2B marketing, outpacing other channels such as Facebook (51 percent), Twitter (35 percent), Instagram (29 percent) and YouTube (24 percent).
King offers nine tips for improving your LinkedIn presence, both as an individual and a brand.
1- Open yourself to conversation. Instead of just describing your job in your profile, consider showcasing the type of individuals you're hoping to connect with, says King. "Talk about who you want to meet, instead of just saying who you are."
2- Content adds credibility. Sharing content on LinkedIn can position you as a thought leader, and has the added benefit of encouraging visitors to spend more time on your profile, he notes. Share content you've published on other sites, or content by others you think is a valuable to your peers. Consider publishing articles directly on LinkedIn to raise your profile across that network, and remember that presentations you've given at industry events can have life long after the event is over. Sharing the slides, notes and videos can get you likes—and maybe even additional speaking gigs.
3- Be proactive. If you want to make connections with new contacts, you can't rely on your name showing up in search results. Search for people in your industry who might be good contacts and visit their profiles. Check out what they've published and find ways to interact on an individual level. They might just visit you back, and that's when you can start a conversation.
4- It's not all about you. When you reach out to someone to connect, don't just leap right into a pitch for yourself, your brand or your service. Ask questions—everyone likes a chance to share something about themselves. "We're all still people," says King. "Turn the experience into something conversational. That's one of the things often ignored in B2B."
---
You May Also Enjoy:
---
5- Want a response? Ask a question. When posting to groups or on your own page, turn the title of your post into a question. Keep it relevant to the audience you're trying to connect with, and ask how the topic or issue is impacting their industry or brand. "It will help create engagement," he says.
6- A group page should be about the members. Group pages work best when they are focused on an interest, rather than a brand. If your company has started a group page, turn it into a resource for the people in your industry or vertical. This is not the place for a news feed about your corporation. And if you're posting on someone else's group, don't get spammy. Educational and enlightening is great, but blatant self promotion? Not so much.
7- Have a personality. Your company page on LinkedIn shouldn't just be a stream of dry press releases either. Give visitors a taste of what life is like at your company. Showcase the people who make your brand tick with posts about events, anniversaries, parties and other snapshots of your culture. And don't forget to share great thought leadership that isn't purely self promotional too. "Those are the things that people come back to, and those are the things that people share," King notes.
8- Keep your voice loud and clear. If you're posting on behalf of your brand, remember that your voice should be consistent with your brand across all channels. If someone is visiting you on LinkedIn, it should sound like the same brand they've seen on Twitter, Facebook or other platforms.
9- Stay positive. This is the place to share good news, not bad. Don't get political, and don't post anything overly polarizing, unless you're ready for the fallout. "Remember that on LinkedIn, more than anywhere else, you're representing a company," he says. "Be aware of the company's voice and message, and don't detract from that."