7-Eleven Adds 3 Million Loyalty Members with Points Giveaway
7-Eleven is ramping up efforts to drive loyalty membership with a sweepstakes that gives away a cool million loyalty points.
Entering is easy, a key component in gaining adoption. Players scan the personal barcode in the 7Rewards app when checking out. The purchase of a featured product sparks an extra entry. Loyalty members get plenty of chances to win, they can scan the app to enter up to six times a day or 42 times each week.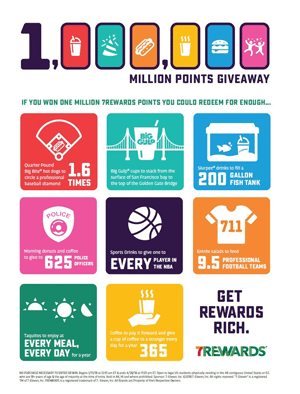 Weekly experiential prizes will be added to the mega points prizes and include a outfitted media room, trips to sporting events and racing weekends, live music events and trips for two to Paris and Sonoma, CA.
Winning a million points will unofficially get customers to "Pointillionare" status, which allows them to have an abundance of reward points and 7-Eleven products at their disposal, the company says.
"Since the launch, we've gone from 9 million members to over 12 million and counting," says 7-Eleven Chief Digital Officer and Chief Information Officer Gurmeet Singh.
Just in case you're wondering what 1 million points would get you? That could be, for example, 1,250 medium Slurpee drinks or 833 Big Bite hot dogs.
The 7-Eleven Million Points Giveaway, which ends April 28, coincides with the recent 7Rewards loyalty platform. Last fall, the app expanded services from earning users a free beverage for every six cups purchased to enable customers to earn rewards points for hundreds of other 7-Eleven product purchases.
Related articles:
What It Really Takes to Earn Millennial Loyalty
Digital Gamification Injects a Coolness Factor into Loyalty Programs
Continental Tire MLS Sponsorship Reward is Loyalty and Purchases