3 Tips to be More Comfortable On Stage
As the theory goes, people are more afraid of public speaking than of death. Asked to get on stage and present ideas or inspire audiences can strike fear in many of us. And, oh the horror, a perfectly delivered presentation won't compensate for a boring idea or story, Dianna Booher writes for CEO Magazine.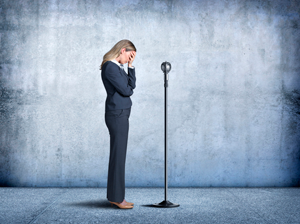 As future CMOs—and CMOs themselves—climb the ladder and hone their speaking skills, these three practical tips can help smooth anxious feelings so you will not only become more comfortable on stage, but also make sure the audience hangs with you and walks away educated, excited  and energized.
Stop doing all the talking.
If you're doing all the talking, employees are likely to stop listening. To be considered an engaging speaker, audiences today want interaction. They—Millennials in particular—are used to being part of the conversation, a consequence of their plentiful time spent on social media. Get your presentation started off right by encouraging questions and engaging the audience by peppering them with your own querries as you move through your presentation.
---
Other articles you might enjoy:
---
"Rather than speaking as "the authority," often leaders inspire and gain stronger buy-in by asking the provocative questions that guide discussion. Engagement comes from two-way communication," Booher wrote.
Don't just talk about Yourself
Nobody likes a know-it-all. Incorporate what others have done in your presentation—how employees have made change, what exactly they did and encourage them to help solve other problems you may be discussing. Call out employees by name to show the team that you really do recognize others achievements and contributions.
Polish … Polish … Polish
Take the time to practice your presentation and put a little more shine on it with each practice session. But remember, authenticity goes a long way when compared to perfection. Millennials have come to accept imperfection—again another consequence of social media—but that doesn't ring true with ideas. Ideas—and challenges—should be sharp, on point and clearly communicated so that employees see a clear path forward and feel confident that they can contribute to not only solving problems but contributing with ideas of their own.
"If the idea itself doesn't engage immediately, listeners leave—mentally, if not physically," she wrote.