3 Tips for Capitalizing on Mobile Messaging
By Evan Wray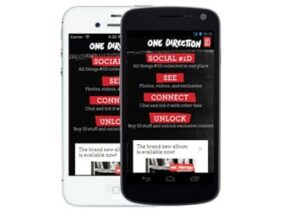 According to a new report from analytics firm Flurry, overall use of mobile apps grew by 115% in 2013, led by dramatic growth in social and messaging apps, a market dominated by youth. 
As this trend continues, the number of users on mobile messaging apps is expected to cross two billion by the end of this year.  But while mobile messaging use has exploded globally, brands haven't caught up, despite the enormous opportunity.  Consider this: Line, a mobile messaging company based in Asia, now has 330 million registered users, adding 30 million new users in less than two months. Japanese e-commerce giant Rakuten recently acquired Viber for $900 million to leverage the messaging  app's 300 million registered users in hopes of becoming "the world's number  one internet services company." Stateside, WhatsApp, an early mover in the messaging app space recently announced it has 465 million active users to date –a number Mark Zuckerberg saw the potential in as Facebook  recently acquired WhatsApp for the small price of $19 billion.
Only a few brands have an official presence or provide actual content that users can leverage to enhance their experience. As marketers struggle to replace mobile tactics like in-app ads and direct text messages that don't seem to be working, they cannot afford to wait to reach this huge pool of current and potential fans and customers. The large majority of messaging app users are under 25, and marketers know all-too-well that the under-25 demographic can be fickle and fleeting, yet extremely lucrative. Like any new channel, marketers may (understandably) be hesitant about jumping in or confused about where to start.
Overall, the key is creating a friendly, non-intrusive presence that adds to the personal experience users expect on mobile messaging platforms. With that in mind, here are three tips for riding the rising wave of mobile messaging in 2014:
1. Take note of the popularity of emoji and stickers: While messaging apps may have started as a way to communicate with friends and family, they are evolving into gateways built around making conversation more fun. Consequently, the increased popularity of emoticons and stickers comes as no surprise—stickers are actively used by almost 40% of smartphone users according to On Device Research, presenting an enormous opportunity for marketers to engage with current and new fans in an uninterrupted way that adds to the experience.
Consumers are crazy about branded items, from t-shirts to posters, so by offering branded content on the number one way people communicate today (mobile messaging), brands can connect fans even more closely to the content they love.  Mobile messaging apps, like Kik, Viber and Line, have taken to the trend already – Line, for example, revealed in August it is bringing in upwards of $10 million per month from the sale of sticker packs to its users.
2. Create a custom, integrated brand channel: Another way brands and messaging apps can add to the overall user experience is through custom, integrated channels.  Take WeChat for example – the China-based mobile messaging app showed incredible growth outside China in 2013 with 78 million new users each month in the fourth quarter of 2013, representing a 375% increase in users from the second quarter.
What helped it grow? Back in August, the app launched "official" accounts , empowering companies to reach their fans and customer directly.  This new functionality gives brands the opportunity to engage one-on-one with their fans in a way that feels organic to the rest of the experience. Marketers on WeChat can now interact with followers by posting content such as special offers, videos and photos, and pushing that information to users who choose to interact with their brand.
3. Offer promotions and launch campaigns: Mobile messaging apps present a unique platform for companies to offer rewards, launch campaigns, and run promotions and contests.  As most brands are already using Twitter and Facebook, mobile messaging offers a way to reach millions of users in a large but largely under-utilized community where competition from other brands is still light.  Sony, for example, saw the benefit of this emerging channel in a recent promotional campaign with messaging app, Kik, to launch a new One Direction album.  By leveraging the messaging platform's large teen user-base to maximize reach, Sony sold over 5,000 copies of the One Direction album through the app.
According to a study done last year by Forrester for mobile ad network TapJoy, current mobile marketing strategies are not providing much value, revealing that 70% of people found in-app ads "interruptive." So, as consumers increasingly spend time on smartphones, and specifically mobile messaging, brands are encouraged to jump on board, but in a way that maps to what users have come to expect from their mobile experience.  The bottom line -for brands searching for how to reach mobile users in a way that that makes an impression, look towards mobile messaging–the next frontier for marketers.
Evan Wray is co-Founder of TextPride.