3 Ideas for Optimizing Inbound Phone Calls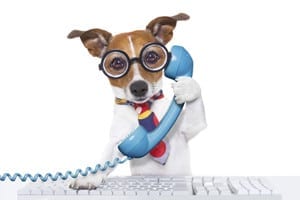 Consumers are using digital channels more than ever for researching and purchasing, but they haven't hung up the telephone completely just yet.
Phone calls still play a pivotal role in many consumers' decision-making process, so it is crucial call center and locations know how to close a sale. Today, however, that usually means convincing a far more informed and empowered consumer. Providing a seamless, personalized online-to-offline experience and managing the actual purchase—and post-purchase concerns—as smoothly as possible can go a long way toward making that happen.
Last year, DialogTech and 4C Insights analyzed call behaviors on Black Friday and found that consumers called stores 27% more on Black Friday 2018 than Black Friday 2017. There were 17 percent more calls related to financing options, a 74 percent increase in calls related to delivery dates, and a whopping 344% lift in calls related to specific specials and store hours. Across the board, the length of phone calls increased by 22 percent.
---
You May Also Enjoy:
---
As consumers do more and more pre-purchase research online, inbound phone calls have become more centered on how-to-buy versus what-to-buy. These calls can offer businesses great opportunities for cross- and up-selling. Consider these best practices for optimizing these conversations.
Offer Creative Solutions — Help customers overcome any hesitations to purchase with offers like flexible options for delivery or financing. The consultative nature of an actual human conversation cannot easily be replaced by AI, boosting the value consumers place on phone calls. Over half the calls made by consumers to businesses over Black Friday and Cyber Monday in 2018 originated from a paid search ad. Call analytics can mine both the keywords and the search behavior producing calls to extract insights for what kinds of creative solutions would be ideal for various scenarios, both on the call and in ad copy.
Attribution —A record 90 million people shopped through a combination of online and offline activity last year, up 40% from 2017. It is essential for businesses to understand where the lines between online and offline blur and how to optimize content, media spend and audience targeting strategies accordingly.
Personalization — Calls related to the purchase process itself are on the rise, and marketers stand to gain if they can personalize each consumer's phone call experience based on what online interaction led to the call and where the caller is in the purchase process. Build deeper relationships with consumers by linking online activity to specific phone numbers so associates can take online actions into consideration when offering suggestions. Associates who know what product or service a customer is calling about can offer a much more personalized, relevant and satisfying experience. Automated routing systems can direct calls to the best agent or location for their needs, and even bump callers from historically high-converting channels to a priority queue.
Dave McAnally is vice president of marketing at DialogTech.