3 Benefits of Activating Influencers Around Major Life Stages
Landing your first job, getting married, bringing home a new baby—these are all major moments and brands are no strangers to tying their products or services to the emotional and relatable nature of these moments.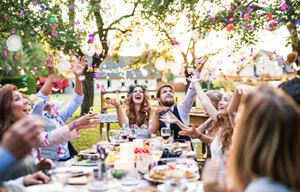 But these are also moments that influencers are uniquely poised to tap into on behalf of brands looking to make a deeper impact. Influencers go through these milestones themselves, and over time they amass  audiences that have often 'grown up' with them—audiences that share similar age ranges or life stages and engage with influencers' content because it is so personal to them.
Not only are influencers natural storytellers, but their personal experiences allow brands to enjoy increased success in tapping into consumers during times in their lives where they are experiencing changes to their purchasing behavior, driving brand recollection and authenticity.
1. Changing Purchasing Behavior
Consumers will make significant changes to their purchasing behavior when undergoing any major life moment. According to Boxed CEO Jackson Jeyanayagam, "Customers change their spending patterns three times in their life, 1) when they get their first job, 2) when they get married and 3) when they have their first kid." With so many important milestones for consumers change purchase behavior, there is immense opportunity for brands to attract new customers or deepen relationships with current customers during these times.
---
Other articles on influencer marketing you might enjoy:
---
For example, getting engaged means saving up for a wedding, potentially working out more regularly and gathering inspiration for a honeymoon. The excitement of a new pregnancy means a lot of prep taking care of oneself as well as purchasing everything a new baby needs. Engaged couples or parents-to-be are undoubtedly looking to social media for inspiration and that's where brands can tap 'look-alike' influencers to advocate for relevant products. A new mom-to-be may on the lookout for a stroller, so a trusted review from a mother she relates to can be what helps her pull together her consideration set.
2. Driving Brand Recollection
Not only can influencers move the needle on purchase intent for consumers, they can also keep a brand top-of-mind for people who aren't looking to purchase right away. Consumers will remember when brands show up during these key moments of their lives, especially if they are telling the right story to consumers at the exact right time. It will drive return for the brand for many years to come.
For example, a college student may not be in the market for things they'll eventually need for their career—like a more professional wardrobe or a sturdy and stylish work bag—but as they prep for on-campus interviews and career days, they will remember a brand that produces relatable content in partnership with influencers. A brand may work with influencers who are posting about how excited they are to start a new job—and what they needed to invest in to ensure they were prepared for day one. When that student has graduated and is starting his or her first job, they'll certainly be more likely to remember the brands that have made an impact on them in the past.
3. Delivering Authenticity
Influencers pack a powerful punch for marketers looking to relate to consumers during some of their most exciting and intimate moments with recommendations likened to a suggestion from a close friend.
Not only do influencers offer a trustworthy opinion, they are able to provide a personal narrative that other marketing or ad tactics cannot match.
In many cases around life moments, this narrative can be stretched out over a long period of time, allowing opportunities for more content and impressions. A brand could work with a mom-to-be during the entire duration of her pregnancy, follow a number of brides-to-be across the country as they plan their weddings, or raise awareness around a particular condition by working with an influencer who recently became a caretaker for a loved one.
Overall, life's major moments pose major opportunities for brands to gain new customers or deepen relationships with current ones, but it's crucial to approach a marketing strategy with authenticity. By clinging to the natural storytelling nature of these milestones, brands can find great success activating influencer campaigns around them.
Kamiu Lee is CEO of Activate.