2019 Trends: Martech Spending Continues to Rise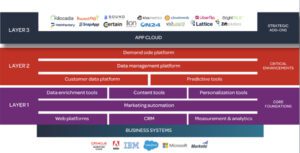 The upwards trend in martech spending will continue in the new year, but many companies still aren't confident they're getting the best bang for their buck.
Forty-two percent of respondents to Chief Marketer's 2019 B2B Marketing Outlook survey said their martech budgets would increase this year, and another 40 percent said theirs would hold steady. Only four percent saw a decrease on the horizon.
Marketing automation topped the list of planned expenditures (45 percent), followed by video (43 percent), email marketing (40 percent), customer experience (38 percent) and social media management (37 percent). Forrester projections show that global marketing automation tech spending was projected to hit $13.4 billion in 2018, a figure that will nearly double to $25.1 billion in 2023.
Gartner trending data shows that about a quarter of all marketing budgets are dedicated to martech, with the remainder almost evenly split between paid media, services and labor, notes Tom Stein, chairman of Stein IAS, one of the B2B shops named to this year's CM200 list of the country's top marketing agencies.
But despite the increased spending, there are a lot of disconnected data points around martech, and marketing automation in particular, says Stein. Research from econsultancy shows that only 15 percent see their marketing automation strategies as "effective," and a report from GetResponse finds that the majority of marketers see their expertise level in the area as only "basic" or "intermediate."
---
You May Also Enjoy:
---
The barriers cited by many marketers are numerous, including budget or training. But, the sheer speed of martech growth is potentially the largest factor. Consider the fact that the number of companies on Scott Brinker's annual Marketing Technology Landscape doubled from 3,500 in 2016 to 7,000+ last year, and you've got a daunting number of solutions for marketers to think about.
"The learning curve has been quite swift," says Stein. "We're all in a process of catching up."
To succeed, marketers must focus on not just the technology itself, but the goal that they want to achieve with it, says Matt Preschern, senior VP of global demand and performance marketing at systems software developer CA Technologies. (For more on the company's martech strategy, check out their profile in our recent B2B Marketing Automation All-Stars special report.)
"The notion of marketing tech being a strategic enabler is so important," he says. "You can't just use technology for the sake of using technology."
Having a clear strategy for your marketing technology purchases is crucial, agrees Dan Sheridan, director of interactions operations at Stein IAS, who spoke at LeadsCon's Connect to Convert. (LeadsCon Las Vegas is scheduled for March 4-6 at the Mirage. For the full agenda, click here.)
Companies should look at their martech stack as three core layers, he says. The foundation is tools such as marketing automation, CRM, web platforms, and data enrichment and personalization tools. Then the second layer includes data management, predictive tools and demand side solutions. Next is what he calls the app cloud, including tools for functions such as social, webinar, video and lead management.
With everything, marketers need to look at whether a tool will enhance the customer experience, and know the metrics. These two points aren't siloed ideas, he adds. "If you get the brand proposition and the customer experience right, pipeline will follow."