Woodstock 50 Cancelled by Investors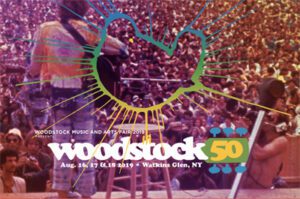 Brands looking to spend their festival marketing dollars at Woodstock 50 this summer will need to invest elsewhere.
Desentu Aegis Network, which was funding the festival, announced Monday that they were pulling the plug on the anniversary celebration of the iconic New York concert.
As Billboard reported, Desentu Aegis Network Amplifi Live felt the decision to cancel was the most "prudent decision" for all involved.
"It's a dream for agencies to work with iconic brands and to be associated with meaningful movements," said the marketing services group. "We have a strong history of producing experiences that bring people together around common interests and causes which is why we chose to be a part of the Woodstock 50th Anniversary Festival.  But despite our tremendous investment of time, effort and commitment, we don't believe the production of the festival can be executed as an event worthy of the Woodstock Brand name while also ensuring the health and safety of the artists, partners and attendees."
---
You May Also Enjoy:
---
More than $30 million had reportedly already been spent on the three-day music festival's line-up, which was slated to include Jay-Z, Imagine Dragons, Chance the Rapper and Miley Cyrus, as well as performers from the original 1969 Woodstock concert such as David Crosby, John Fogerty and Canned Heat.
Several problems had plagued the festival, according to Billboard, such as both AEG and Live Nation passing on requests to infuse an additional $20 million in funding, ticket sales getting postponed, and a failure to secure the needed state and county permits to hold the event.
Of course, not everyone is ready to admit the party is over before it starts. Despite the cancellation announcement by the financial backers, organizers of the festival released a statement to the Poughkeepsie Journal saying the show will go on.
Woodstock 50 promoter Michael Lang—one of the producers of the original 1969 concert—told the New York Times the show will still go on. The festival's lawyer Marc E. Kasowitz said in the statement that Dentsu didn't have the right to cancel the festival, and that "all stakeholders, including the entertainers" should proceed as planned. Lang also told the Times that potential sponsors had been lined up.
Will Woodstock 50 ultimately happen? Lang is optimistic, telling the Times that trouble is built into the festival's DNA.
"Funnily enough, this kind of fits the legacy of Woodstock in a way," he said. "In 1969, we got kicked out of Wallkill a month before the festival was to happen. One of the miracles was that we found a site the next day."
The Woodstock 50 cancellation is the second aborted celebration of the concert's anniversary. A 50th anniversary festival planned at the Bethel Woods Center for the Arts on the site of the original Woodstock festival had been planned, but in February INVNT announced that it would no longer be producing that event.