Whirlpool & Firestone Building Products' B2B Live Event Tips
Having a clear strategy on what you want to communicate to customers and prospects is essential if you want to be successful at B2B live events.
"When we set our goals, I look at overall show strategy and consider priorities all the different audiences for our organization," said Kevin Sulaiman, associate brand manager, Whirlpool, at this week's B2B Connect to Convert in New York.
Whirlpool has five different brands and is launching products year round. If a product launch isn't happening around the time of an event, the strategy might shift to off-site meetings with customers to build relationships. If something new is debuting, the focus shifts to lead en and brand awareness.
"There's a seasonality in our business that has to sync up with whatever we're attending," said Sulaiman.
It's important to remember that you not only want to engage existing customers as well as new prospects at live events, said Matthew Loos, executive director, marketing, Firestone Building Products, who also presented at B2B CtoC. "You can tap them to generate more revenue."
Sometimes, brand awareness can be built at events in non-traditional ways, such as having a presence in a partner booth that has synergy with Whirlpool's offerings. Regardless of the event, the goal is to drive positive sentiment in social conversations. "You want people to be talking more about you than your competitors," Sulaiman said.
Firestone Building Products has several different audiences, including roofing contractors, building officials and influencers such as architects and contractors. "The ways they use are products are different," Loos said. "We do research and create personas to tailor content to speak with them."
Content for brand loyalists is different from what would be used to speak with a more casual buyer, he added. "Personas help us drive insight, align to the brand audiences and move business forward."
A "playbook" is often created for events to make sure messaging is on-point for different constituents. For Firestone—which like Whirlpool works with CBD Marketing on its marketing creative—this effort includes a media boot camp with practice interviews to train managers on how to speak about new products.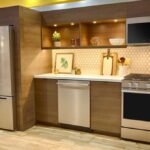 For a show like the Pacific Coast Building Conference, Whirlpool might start pulling in internal stakeholders five or six months in advance, to discuss what worked well at the show last year, and how it can be improved. For the 2017 event, a direct mail piece was created to drive traffic to a dedicated landing page 30 days in advance of the show. Prospects could RSVP for an exclusive champagne reception where a new product would be revealed.
Post event, videos and other content from the show can be used to keep the conversation going after B2B Live Events. "Engagement shouldn't end at the show," said Loos.
"It comes down to what you want your customers to take away from the event," agreed Sulaiman. "What are the one or two things you want your audience to walk away with? Creativity is your only limit."
Post event, the brand places prospects in a nurture strategy. "We might not see a return until next year, but there is value in continuing the relationship."
Events on a Budget: 3 Tips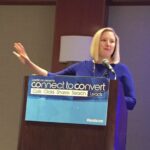 At B2B Connect to Convert, on-demand marketing consultant Katie Martell offered tips for making the most out of live events on a budget.
Be different. Events are expensive. Step outside the unexpected to get noticed. When she was director of buzz at NetProspex, rather than just hand out trinkets at a show booth, she hired a crane machine like you'd find in a video game arcade, rigged it to win every time, and filled it with branded swag. Attendees lined up for a chance to play "The Prospector," and while they waited, sales reps could talk up the product to them.
To help launch the start-up Cintell at another event, she paid a local non-profit 20-person marching band $500 to walk around an event in company t-shirts and play. It got attention, and everyone knew who the company after their performance.
At the same event, she had Cintell logo buttons printed up and told people if they wore them, they might win cash. People who were spotted with the pins won $5. Brochures packed into event bags will just get thrown out, but a stunt like this will get you noticed.
Offer real value. It's great to try and set up pre-show appointments, but it's hard to get on people's radar. Offer something of value in exchange for their time, like an assessment of their data, or a signed copy of the keynoter's new book. "As marketers, we all appreciate creativity," she said. "Make it worth people's time."
Lift all boats. Partner with other brands to do a splashier event than you might be able to afford on your own. Pool your resources for a bigger party, or even create your own event or mini-tour where your brand is the star.
Related Articles:
B2B Connect to Convert: Building Buzz, Lead Gen, An Eclipse & More