Walmart, Kool-Aid, Chipotle: How Brands Are Connecting With Consumers on Halloween During COVID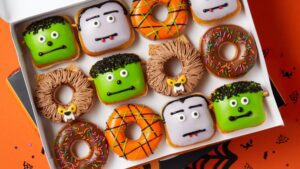 For the first-ever socially distanced Halloween, brands stepped up for consumers—from Walmart's "spooky street" parking lot transformations to visits from the Kool-Aid Man to Chipotle's virtual "Boorito" promotion. Here is how marketers connected with consumers on Halloween during the COVID era, according to a piece in PRNEWS.
Walmart
In an effort to save Halloween and trick-or-treating, the retailer converted more than 100 of its parking lots into "spooky streets" for contactless, socially distanced events for families. Costumes were encouraged. Walmart also continued its Halloween Camp experience, an interactive virtual event featuring games, craft projects and virtual haunted houses.
Kool-Aid
In what the brand is dubbing a "reverse trick-or-treat" campaign, the Kool-Aid Man himself brought contest winners candy straight to their homes. Consumers entered the contest by tweeting #GhoulAid and #OhYeahPromo for a chance to be visited in person by the mascot, who delivered Scary Berry Jammers drink pouches, Ghoul-Aid Scary Berry popping candy and Kool-Aid Man costumes to homebound children.
👻👻👻H YEAH! #ReverseTrickorTreat #Halloween2020 pic.twitter.com/u9fkOt3um3

— Kool-Aid Man (@koolaid) October 30, 2020
Chipotle
Each Halloween, Chipotle offers a buy-one-get-one-free burrito promotion to consumers who visit its stores in costume. But this year the brand offered its "booritos" to people through TikTok, Twitter and Instagram. To claim one of the 500,000 deals being offered, consumers were asked to text a valid keyword to 888-222.
For how additional brands embraced social distancing and virtual promotions, from Lowe's to Krispy Kreme to Mental Health America, read more in PRNEWS.