Walgreens Buys a Stake in Birchbox and Sets up In-Store Beauty Experiences
Walgreens is testing a new way to strengthen and build its beauty business by buying a minority stake in online beauty retailer Birchbox.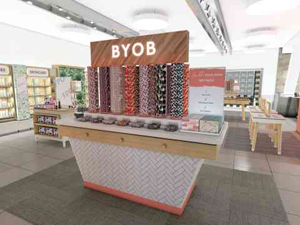 Birchbox will set up in-store experiences in an initial 11 branded test locations, rolling out this December through early 2019. The experiences will feature dedicated space with Birchbox branding, elevated design and a curated product assortment featuring full-sized skincare, hair and makeup products from more than 40 brands. Birchbox-trained Walgreens beauty consultants will be on hand to offer advice and guide customers through the experience.
At the shops Birchbox will also offer subscriptions to its monthly delivery services of personalized samples and a "Build Your Own Birchbox" experience, which is a signature element of Birchbox's flagship stores in New York City and Paris.
---
Other articles you might enjoy:
---
The goal is to reach "an underserved customer who doesn't prioritize beauty. Birchbox has effectively changed the relationship that this customer—who represents 70 percent of the market—has with beauty and increased her spend in the category. Walgreens is deeply committed to beauty and shares our vision for a different type of retail experience—one that is holistic, seamless and designed to help shoppers make informed, confident decisions," says Katia Beauchamp, CEO and cofounder of Birchbox.
The multi-channel experience includes a curated beauty Birchbox shop on Walgreens digital properties.
"For Walgreens, the deal may be a way to distinguish itself from competitors, including CVS, that are also stepping up beauty offerings, eager to find new ways to boost non-pharmacy, also known as "front of store" sales. Besides remodels to showcase products, chains are adding beauty-specific loyalty programs and specially trained store consultants," Mediapost said.