True Food Kitchen New CMO is Cooking up Some Modern Marketing
True Food Kitchen, the pioneer in health-driven marketing, is on the move. It has grown from 11 restaurants in 2015 to 27 restaurants with six more planned this year. A new online ordering experience launched in February and a new loyalty program is about to go live.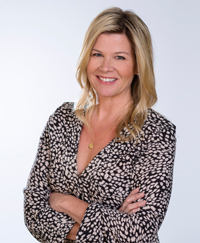 Shannon Keller, CMO, True Food Kitchen
Shannon Keller was just promoted from vp marketing to the brand's first CMO and is taking marketing into the modern era. She spent 15 years on the agency side and experienced—and fell in love with—True Food Kitchen as a consumer, before the company reached out to her with an offer to join as director of marketing. Keller shares her experience stepping into the CMO role and how she plans to move True Food Kitchen forward through strategic brand initiatives, partnerships, events and innovative programs. She also offers advice to agency professionals and other marketers looking to climb the ladder to the C-suite.
CHIEF MARKETER: How is the CMO job different from vp marketing?
SHANNON KELLER: It's not like something changes overnight. You're working in the role long before you get the title. As CMO, you have to adapt to all the changes happening in technology and the way consumers are interacting with brands. We have to be so linked to all the touchpoints. It's staying ahead of those trends and working closely with each of the function heads and building a team of internal marketers and external partners that share our vision. I work now more than ever with our IT department.
CM: What are your responsibilities?
SK: Creating meaningful strategies and achievable plans, yet challenging and developing the right measurement to monitor the success. The biggest responsibility is setting the stage for change, anticipating our brand's future and creating a strategy to surmount the challenges. Before, you're focused on the present, and now the bigger picture of where this company is going to be five years from now. It's questioning what we're doing in a good way and being ready to act upon new opportunities.
CM: What were your first steps as CMO?
SK: The role came at a really incredible time. We were just starting the year and took a big picture approach. We're looking at same store sales as a brand and how to grow them. We had been working over a year to build our online custom ordering experience and we're taking that to the finish line. We partnered with OLO and its platform to launch the experience and outline a roadmap on how to grow online and in-store sales. Another big initiative is launching our branded app and our loyalty program. Getting those to the finish line and creating a plan to support those has been a big initiative with a lot of moving parts.
CM: How does your loyalty program work?
SK: We really thought about how we put the loyalty program together, which launches at the end of the month. It's less about points and more about creating experiences for members. People come together at our restaurants to celebrate healthy living so we'll do some community dinners or sneak previews of seasonal menus. There will be different benefits in different tears, but very experiential compared to other loyalty programs out there. We'll still have offers and surprise and delight rewards, but what is exciting for us is that the loyalty program will allow us to create real time engagement with our consumers.
CM: Can you share an example?
SK: If we see one customer always dine on the first day of the seasonal menu, we could have them become a brand ambassador and experience seasonal menus in advance. The rise of data from our loyalty program will allow us to make more targeted offers and create a deeper level of engagement with our guests knowing specifically what we're seeing from their consumer behavior.
CM: How will the data play in to your marketing?
SK: For the first time we'll have more data to help craft marketing plans and insights. We are trying to do more storytelling. We think it's important to tell people how we're sourcing ingredients. For our first video our brand chef, Robert McCormick, went behind the scenes of our organic kale grower. This is even more important now because kale, for the first time, was featured on the "dirty dozen list." People are interested in hearing the story behind the food they are eating. There's a new level of interest in how companies are sourcing so it's important that we as storytellers are sharing that with our guests. From now until the end of the year we will do five videos. The next one will take our guests behind the scenes of one of our wineries. We'll also tell the story behind the farm where we're sourcing meats and we're going to Scotland where we source our salmon. We share the videos through Instagram Stories and on our website. We'll also work with PR agencies to help drive the message of how we're sourcing as well.
CM: The timing of the kale video seems important since you just launched a new promotion around kale. What is that about?
SK: The "Cobb for a Cause" promotion supports the Environmental Working Group, the nonprofit organization that empowers people to live healthier lives in a healthier environment. We will donate $1 to the EWG for every Good Earth Kale Cobb salad sold from April 1-30. The salads is a healthy twist on a familiar favorite.
CM: What are some of the events you stage?
SK: We do community dinners as each seasonal menu changes. We just did one in January in Pasadena with Oprah, who is an investor of ours. We served produce from Oprah's farm and she surprised guests by joining them for dinner. That's the first in a quarterly series that we'll have. We do pop-up local events like fitness and yoga classes and gardening workshops, but we're also planning for some larger regional events. We're working on an activation on the east coast right now around our summer menu in a market where we don't currently have a location.
CM: As a first time CMO, what qualities or skill sets do you think marketers or agency professionals need to rise to CMO at a consumer brand?
SK: A good CMO sees the big picture, but can also see the little picture and help the team identify what needs to get down in the now to make the big picture happen. It's important to be a leader, to work closely with different brand partners and be aligned with the team and the different function heads, that's where we as marketers can sometimes fall down. I work very closely with our COO and IT team to understand what challenges they may face and align with where they see the company going. I always say to my marketing team, if it's difficult to communicate to the team, it's difficult to communicate with a guest and we need to go back to the drawing board. You also need to be a great communicator, I don't mean a great orator, but constantly communicating with the team about what goals you expect so everyone is in the loop. We're all moving so fast that transparency and communications between functions is so important.
CM: What advice would you give marketers working to climb the ladder to CMO?
SK: Earn your seat at the table—read, know the trends, bring ideas to the right people. Never lose sight of your passion. I have been told so many times along the way, that's not the way we do it here and I've fought hard for strategies I thought would move the needle. Own your brand—your own brand—do your own PR and fight for that next role that you want.
CM: What about women in particular? What would your advice for them be?
SK: My entire eight person marketing team is all women. I continue to tell them to earn your seat at the table. Smart, successful women never give up. They will continue to bring great ideas to tables whether it's full of men or women. Standing up for what you believe in is good for the brand and good for the company. Having a clear understanding of what the roles and responsibilities are in each of the vp and CMO roles and working hard to get to that next level. Sometimes you have to ask those questions.
CM: How did you transition from an agency professional to a consumer brand?
SK: I moved to Arizona from LA in 2008 right when the first True Food Kitchen opened. I heard all the buzz about this concept and I experienced the brand first as a consumer and feel in love with it. I became a heavy user and didn't feel guilty about it. I trusted that there was a real premium put on the quality ingredients they were using. I had just left an agency and started my own small agency with four clients when the head of HR and the head of marketing reached out to me on the same day. I was hoping to turn them into an agency client, but I realized there was a real opportunity for me to make a difference and grow the brand that I really believed in.
CM: How is working for a brand different?
SK: I always thought I'd find a brand that I loved enough to focus all of my time on. I didn't know it would come as soon as it did. I liked the diversity of working with several clients at a time in different industries and I thought going to the brand side would be easier, but I wear as many hats as I did on the agency side with a larger responsibility to the brand to drive bottom-line growth.
CM: You're in a competitive market. What keeps you up at night?
SK: Everything. Some of my best ideas come at night. It's when I'm just not nailing something that I will go to sleep hoping it comes to me in the middle of the night and it usually does. It's such an exciting time to be a marketer, but it's not easy because there is so much changing so fast. To stay relevant you have to continue to reinvent yourself as a brand and always remain true to your core philosophy. It's scary, but exciting.