Tips for Marketing Communications Surrounding Reopening Businesses During COVID-19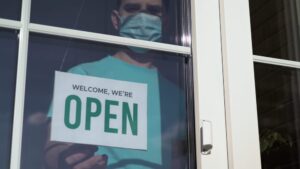 As parts of the country begin to slowly revive their economies, marketing communications will remain paramount. So, to help brands prepare and strategize for communicating organizations' policies and practices to employees, customers and the public in the days and weeks to come, PRNEWS compiled a list of tips for crafting a communications plan for reopening your business. Following are a few highlights.
First and foremost, be honest and direct with your employees and customers. Doing so will help gain employee trust, another key component of a solid communications plan. Employee safety at offices, factories, schools and other places of business should be the top priority, so prior to any reopening employees should be given a detailed safety plan. Consider conducting short surveys or virtual focus groups so that employees have a voice and are included in the process.
To gain the trust of the public, acknowledge in your communications that a reopening will be phased and gradual rather than linear. Establishing that expectation will provide transparency and built trust. And lastly, provide as much detail and as many facts as possible, particularly regarding any cleaning and safety procedures—to ensure that employees and customers feel comfortable reengaging with your business. For more detail on crafting a communications plan, read more in PRNEWS.
---
Other articles you might enjoy: