The Many Ways AT&T Shares Pro-LGBTQ Messages
Editor's Note: This is the fifth and final article in a series on marketing to LGBTQ consumers.
AT&T has a long and impressive history of supporting the LGBTQ community. Back in 1975, it was one of the first major American corporations to adopt a policy prohibiting discrimination against employees based on sexual orientation. In 1987, its employees founded LEAGUE—now one of the oldest LGBTQ and allied employee resource groups in the country. The company has been named one of the "Best Places to Work" by the Human Rights Campaign for 15 consecutive years. And last month, AT&T was recognized by the National Business Inclusion Consortium as a Best of the Best Corporation for Inclusion.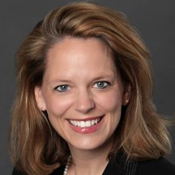 Valerie Vargas, SVP, AT&T advertising and creative, shares the company's expertise for successfully and authentically connecting with the LGBTQ community.
CHIEF MARKETER: How did you gain your understanding of the LGBTQ community?
VALERIE VARGAS: We have an authentic understanding of the community and its organizations because many of our colleagues, customers and clients are part of the community. We have a vested interest in their success. We listen and make sure we're treating them equally and that they're represented and visible in what we do as a company.
CM: What are some of the campaigns you are running for the community?
VV: Our "Turn Up the Love" marketing platform connects LGBTQ and allied consumers to exclusive events and content, which offer opportunities to show support for the community year-round—not just during Pride month.
CM: You support a number of LGBTQ events, are there any in particular you'd like to mention?
VV: The company is particularly proud to be the presenting sponsor of LOVELOUD Fest, a large-scale music festival [June 29] that drives awareness of the importance of LGBTQ acceptance happening in Utah for a third year.
CM:   How do you interact with the community from a creative standpoint?
VV: In everything we do, we want to make sure it comes from an authentic place. So we make sure to include diverse points of view and perspectives. We are mindful of the importance of authentic LGBTQ representation in advertising, and understand that supportive messages can inspire new allies, which is why we share them beyond the LGBTQ community.
CM: How do you reach LGBTQ consumers?
VV: We have many different ways in which we share pro-LGBTQ messages in the marketplace. It's a continuously evolving process as technology evolves and our customers evolve. More specifically, traditional advertising is important to us, of course. We have recently aired a LGBTQ inclusive spot as part of our current national campaign. Our year-round "Turn Up the Love" campaign communications leverage the benefits of social media to connect and engage.
This commercial debuted on April 6 during the Augusta National Women's Amateur Tournament to showcase AT&T's commitment to gender equality. 
CM: What is your connection to the Trevor Project?
VV: We made a $1 million contribution to the Trevor Project so they could expand their life-saving efforts to help at-risk LGBTQ youth, and we will continue to support to The Trevor Project this year. AT&T is also proud to support GLAAD and LOVELOUD Foundation in meaningful ways that allow these organizations to execute some of their signature programs. Like so many brands today, we also sponsor Pride events.
---
More on Marketing to LGBTQ:
---
CM: What do you do internally for LGBTQ employees?
VV: In 1998 we adopted one of the first domestic partner benefits programs for our LGBT employees. In 2006, we were one of the first U.S. corporations to offer transgender-inclusive healthcare benefits. In 2015 AT&T signed the "friends of the court" brief at the U.S. Supreme Court to support the business case for marriage equality. Today, AT&T is proud to be a member of HRC's Business Coalition for the Equality Act. We support our LGBTQ employees via our LEAGUE LGBTQ employee resource group. Finally, we support policies that advance equality for the LGBTQ community, including the Equality Act.
CM: This community is often extremely loyal to brands that understand it. Have you found that to be true?
VV: Absolutely! Our commitment is genuine. We acknowledge and respect people for who they are so people feel visible and appreciated. As a direct result we believe the LGBTQ community has become more loyal to our brand.
CM: What are your thoughts on diversity and inclusivity in marketing?
VV: Diversity and inclusivity in marketing is the only way to do business because our customers are diverse, our employees are diverse, and the global market is diverse. The world is getting smaller, which means acknowledging and respecting all people is the only way to do business.
CM: What are your thoughts on diversity and inclusivity within the workplace, and specifically, the marketing department?
VV: Diversity and inclusivity within the workplace is a necessity. Whenever you have diverse points of view represented at the table—men, women, people of color, the LGBTQ community, people of various religious and socioeconomic backgrounds—you consider more options, and in turn, make better, more informed decisions. Better information and better decision-making equals success.