10 Ways to Foster LGBTQ and SOGI Inclusivity at Events
Editor's Note: This is the second article in a series on Marketing to the LGBTQ Community.
Inclusive event planning is good event planning—it's thinking about the seemingly small details that can make a big difference in how a guest experiences your event. Accessibility accommodations or diverse gender options on an RSVP form can influence a guest's experience as much as a smooth check-in process or perfectly curated swag bag.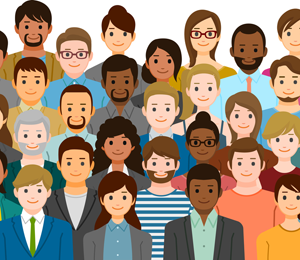 In addition to creating the best experience for all attendees, truly inclusive event planning reflects the diverse communities an organization serves. When guided by inclusive marketing principles, events can elevate diverse voices, decrease bias, and lead positive social change through thoughtful and respectful attention to detail. Events can be wonderful opportunities to showcase an organization's inclusive values.
Inclusion also benefits your bottom line
According to a report by Salesforce Research ("The Impact of Equality and Values Driven Business"), consumers across generations prefer to engage with values driven companies that invest in and support their communities. Gallup estimates five percent of the world population identifies as LGBTQ. In large metropolitan areas (e.g., Seattle, Atlanta, San Francisco), the estimate rises as high as 15 percent. Sexual orientation and gender identity (SOGI) inclusivity needs to be a part of every event planning process because feeling included can have a powerful effect on the overall event experience. When companies don't focus on inclusion, they risk appearing disengaged, out of touch, or even offensive—however, when they successfully plan inclusive events they better connect with their diverse customers and build lasting brand loyalty. From venue selection to RSVP forms to restroom signage, it's important to make sure all guests feel seen, heard, and considered.
---
More on Marketing to LGBTQ:
---
Here are 10 ways to foster LGBTQ and SOGI inclusivity at events:
1. Location When choosing an event location, think about whether it's the right fit for a diverse audience—including the country, state, city, neighborhood and venue. Is it a welcoming and appropriate place to bring this community of people together?
2. Speakers Think about who will be on stage or presenting. These people are visible and prominent representations of the event and should reflect the diversity in the community. (Gender identity, sexual orientation, race, age, etc.)
3. Vendors Are any LGBTQ-owned? Most metropolitan areas have an LGBTQ business directory, and the National LGBT Chamber of Commerce provides a list on their affiliate chambers' websites.
4. RSVP Forms On RSVP forms, you can ask for guests' gender pronouns (e.g., he, she, they), but only ask for their gender if it's necessary for the event. If asking for gender, provide a blank write-in field so guests aren't limited to a set of predetermined choices. If asking for honorifics, include the standard options like Mr., Mrs., Ms., Dr. Rev., etc. along with the gender-neutral honorific "Mx."
5. Communications Words matter, especially when addressing guests. Try to use gender-neutral terms whenever possible. Some easy swaps to make your language more SOGI inclusive:
○ Instead of "his" or "hers" → "theirs" (the singular "they")
○ Instead of "guys" → "friends," "folks," "colleagues," "team," and "y'all"
○ Instead of "ladies and gentlemen" → "distinguished guests"
6. Check-In & IDs When checking in guests, consider whether photo IDs are actually needed. This inquiry is important because transgender or gender non-conforming attendees might have IDs that don't match the name under which they registered. If IDs aren't required, just ask for an attendees name and check them in.
7. Badges If guests receive name badges, provide pronoun stickers or a write-in field on the badge so attendees can indicate how they want to be addressed.
8. All Gender Restrooms Allow guests to use the restroom that suits their gender identity, without policing or questions. If a venue doesn't have all gender restrooms, try to find
one with single-occupancy restrooms. These can easily be converted to "all gender"
restrooms and eliminate the possibility of anyone feeling uncomfortable.
9. Train Staff Educate event staff—including any volunteers, vendors, and speakers—on these best practices for event inclusivity.
10. Zero Tolerance Policy Implement a zero tolerance policy when it comes to homophobic or transphobic language or behavior at events. If anyone acts inappropriately, the best thing to do is talk to them about it, and remove them from the event if necessary. If something goes wrong and it affects a guest, immediately apologize, and let them know the steps being taken to fix the situation.
Jeffrey Huang is employee engagement, inclusion, & belonging at Salesforce.