The Growth of eSports Explodes and Big Brands are in the Game
ESports is exploding across the world and some of the biggest brands are getting in the game. Media giants like ESPN and Turner are broadcasting eSports competitions, better known to the uninitiated as live video game tournaments.
There are eSports live scores websites, prize pools of more than $20 million and 300 people tune in to watch eSports, a number expected to skyrocket to 500 million in the next three years.
Goldman Sachs estimated the value of eSports to break $1 billion by 2020. YouTube has made its biggest eSports investment to date by signing a multiyear broadcasting deal with Faceit to stream the Esports Championship Series. The NBA will launch its own eSports league in 2018, according to Business Insider, and Nielsen today announced the launch of Nielsen Esports to provide sponsorship valuation, fan insights, custom industry research and consulting services to rights holders, media platforms and brands in the competitive video gaming space.
A new report from BI Intelligence—The eSports Ecosystem—outlines some of the key findings: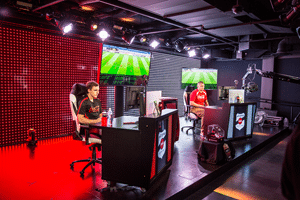 • eSports is a still nascent industry filled with commercial opportunity.
• There are a variety of revenue streams that companies can tap into.
• The market is presently undervalued and has significant room to grow.
• The dynamism of this market distinguishes it from traditional sports.
• The audience is high-value and global, and its numbers are rising.
• Brands can prosper in eSports by following the appropriate game plan.
• Game publishers approach their eSport ecosystems in different ways.
• Successful esport games are comprised of the same basic ingredients.
• Digital streaming platforms are spearheading the popularity of eSports.
• Legacy media are investing into eSports, and seeing encouraging results.
• Traditional sports franchises have a clear opportunity to seize in eSports.
• Virtual and augmented reality firms also stand to benefit from eSports.
So it's no wonder that brands like Coca-Cola, Comcast Xfinity, Activision and Twitch want in the game, as reported by Event Marketer.
Coca-Cola, which has long-term worldwide major sponsorships with the Olympics and soccer has reached its strong marketing arm into eSports as well. The strategy is to "add experiential value to the fans at big events as well as provide access." One execution was to host 200 simultaneous viewing parties of the League of Legends World Championships on cinema screens across the U.S., Europe and Canada so fans that couldn't get to the live—or snatch a ticket, which all sold out within a few minutes—could also participate in the event.
Related articles:
 How Live Events and Sponsorships are Elevating the Booming eSports Industry
Demographics: Three Insights for Event Marketers From Nielsen's Gaming Report
How Intel Extreme Masters is Driving the Growth of Esport Tournaments