Superman V Batman Fight Goes Viral—With a Catch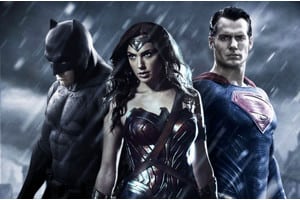 Viral marketing is just one of the many tools in the utility belt of the marketers promoting "Batman v Superman: Dawn of Justice."
Warner Bros. and DC Comics have teamed up with Amazon to create a "choose your own adventure game," where players investigate the deaths of Thomas and Martha Wayne.
The catch? To play "The Wayne Investigation," you need to have either an Amazon Echo smart speaker or an Amazon Fire TV enabled with Elexa, Amazon's counterpart to Apple's Siri.
Katie Granger shares more details of the game on MoviePilot.com.
My favorite bit of marketing for "Batman v Superman" so far (aside from the amazingly cool Wonder Woman Barbie—and we do all agree the Amazing Amazon is the real star of this film, right?) are the videos created by stars Henry Cavill, Ben Affleck and Jesse Eisenberg to promote a sweepstakes on Omaze.com benefitting the Eastern Congo Initiative, The SEED Project and the Durrell Wildlife Conservation Trust.
The videos do a great job of showing the actors' love of the iconic characters they portray, and help raise funds for several good causes. Check em' out.
Related Articles:
Special Report: Video Goes Viral
Storytelling Critical to Viral Video Sharing