Social and Events Help Bullhorn Amplify Its Message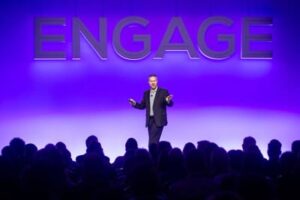 A combination of live events, social media and SEO is helping Bullhorn generate and nurture new leads.
Bullhorn, a CRM system provider for the staffing and recruitment industry, gets about 60 percent of its leads organically through the web, with the balance of lead gen done through trade shows, paid search, software review sites and other marketing channels.
"We're servicing companies that have anywhere from one to 50,000 employees," says Gordon Burnes, CMO of Bullhorn. "The needs that they have vary widely. For us, the challenge is figuring out who they are and then the right way to engage."
A chatbot on Bullhorn's website has helped the Boston-based company segment quickly to identify their needs. Social is also used to share user-generated video to let customers tell their own stories. Twitter is a primary channel to drive engagement, with content focusing on industry trends and issues facing recruiters. A recent Tweet, for example, drove traffic to a blog post highlighting tips for finding and placing candidates in the financial industry.
---
More on B2B Live Events:
---
Because staffing and recruitment professionals are focused on relationship building, industry events and face-to-face contact is extremely important. Bullhorn holds two annual conferences focused on the recruitment industry in Boston and London. The Engage events evolved from a customer event called Bullhorn Live.
"Our theme is 'The Power of People,' and there's a lot of dimensions to that," he says, noting sessions focus on issues such as increased automation, new business models, the gig economy, globalization and GDPR.
Bullhorn's sales cycle depends on the size of prospect company, with a range of two weeks to six months depending on the installation. The 150 person sales team uses account-based marketing to help align sales and marketing to connect with targeted accounts, but overall, marketing attribution can be a challenge.
"With a huge portion of leads coming in through the web, it's hard to know what caused people to come to the website," he says. "Marketing automation can help show responses to a particular call to action, but otherwise [it can be difficult]."