Red Roof Inn Turns 40, Celebrates with a Road Tour
Marketers love to play the numbers and Red Roof Inn is no exception. March marked its 40th anniversary and it is churning out a host of promotions through the fall tied to that number.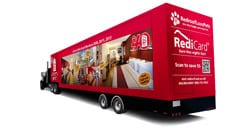 Last month, the lodging company began running the "40 & Fabulous" campaign that includes all kinds of incentives, a sweepstakes and its first road trip to show off its newly updated rooms.
"Forty years in business is quite an achievement," Marina MacDonald, SVP Sales & Marketing Red Roof Inn, said.
The campaign kicked off with 40 free room nights for winners all over the country and will wrap in October giving one winner a $40,000 grand prize.
Consumers whose turn 40 can get a $19.73 per night room rate on their birthday,  and anyone who checks in gets a sweepstakes card to play for a chance to win a number of monthly prizes, including a 37-inch flat screen TV (40 winners),  a six-night trip for a family of four, a  1973 Classic Car and 40,000 RediCard points equivalent to six free nights.
As part of the anniversary campaign, Red Roof is on the road from April to July to show off its $120 million-dollar investment to renovate and update its hotels nationwide with sleek and modern NextGen redesign elements.
"We really wanted to take the room on the road so consumers really understand who we are and what we are now," MacDonald said.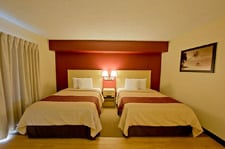 For the first time, it is running a mobile-vehicle campaign. An 18-wheeler semi-truck has been retrofitted to feature a full hotel room that perfectly replicates a NextGen renovated room with modern furniture, wood-like flooring instead of carpet, additional electrical outlets, flat screen TVs, ergonomic chairs, other features and, of course, the bed. Visitors are free to walk around the room and check out the new look. Part of the sweepstakes prize package includes a NextGen flooring package (40 winners)  and a NextGen mattress set (40 winners).
"You wouldn't believe how many people run in and jump on the bed because it is all about how comfortable the bed is," she says.
The vehicle, supported by the brand's "Nice Place. Nice Price" tag line that launched two years ago as renovations began, is making stops in Dublin, OH, Chicago, Toronto and Orlando, FL.
It's all being promoted on social, through email to the brand's Redicard members. A digital video housed on the Red Roof site looks back over the years and highlights the emotional connection guests have with the brand and for travel.
Red Roof, which has about 350 properties, recorded a 2012 6.8% increase in sales. While this year marks a special celebration, throughout the year, Red Roof typically runs flights of promotions related to travel deals or specific customer segments like pet owners or teachers. The brand is also expanding its mobile phone features to make finding Red Roof Inns easier, especially for those who are on the road. With a few clicks users can book and hold a reservation or click to call to reach someone directly.