Putting B2B Marketing to the Test
Testing new concepts against a control was always one of the core principals of direct marketing, particularly in direct mail. In the digital age, testing remains just as important, and has become quicker and easier.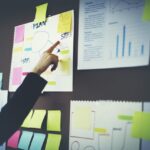 Still, in the rush to get campaigns to market, many organizations skip this all-important step, and that is a mistake. In an article for Huffington Post, Sweet Fish Media founder James Carbary talked with 10 B2B marketing pros to find out what they like to test, and how they experiment with their content.
The results were varied. David Chalmers of Cvent told Carbary that his organization is experimenting with personalization, as well as A/B testing for email subject lines and content. Jibe is also doing email A/B testing, and would like to do more outside of the inbox, but SEO rules make it difficult, said Ivan Casanova, senior vice president of marketing. For example, if they change blog post headlines, that can negatively impact organic search results.
Content Rules is playing with different types of webinar and video formats—both scripted and unscripted—says founder Val Swisher. Nuix, meanwhile, is considering what personas respond to what types of content, according to global head of marketing Andrew Nester. (Read what the rest of the pros said here.)
Social media is a great medium for testing new concepts and ideas. Using social to validate how audiences respond to your message gives brands real-time intelligence they can use to then expand the message into other media, Genuine founder Chris Pape wrote in this article. For example, a video tested in social channels could be tweaked and then incorporated into television campaigns, or used in other digital outlets.
"It's necessary to take into careful consideration the idiosyncrasies and implications of each medium and how audiences engage with them," he said.
"You need to test continually—there is always a way to improve something," Nancy Harhut, chief creative officer of Wilde Agency told Chief Marketer. "Don't put all your eggs in one basket. Messages online and off should reinforce each other."
Related Articles:
5 Tips to Effectively Communicate With Video
Beware of Fake Statistics in Marketing Hype
Why B2B Marketers Need AR and VR Solutions