Pop-ups: How to Turn One-night Stands into Long-term Relationships
Pop-ups are the general public's opportunity to have a one-night stand with a brand or business. Walk around the streets of any major city and you're bound to bump into one. They're everywhere nowadays, each one promising something immersive, something memorable and something shareable.
The challenge for brands and businesses is how to turn those one-night stands into long-term relationships. How do you get people to text back in the morning and not just disappear forever?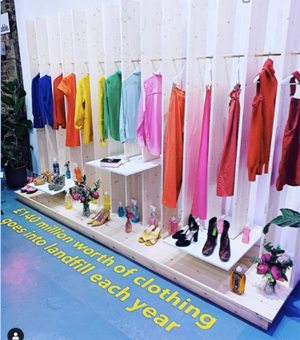 With investment in experiential marketing growing rapidly in recent years, pop-ups have become an increasingly popular activation for businesses looking to attract new customers or tell a story. Pop-ups don't just appear in city centers. You can find them everywhere. Festivals, expos, markets, county fairs. North Face even built one up a mountain. The challenge is making sure your pop-up delivers more than just press coverage and a pretty picture. Do they drive commercial results? Do they result in online sharing and word-of-mouth fame?
There's no silver bullet for making a successful pop-up. A long-lasting and meaningful impact is achieved through a combination of factors.
Bring it to life
For most businesses and brands, integrating different channels under one overarching strategy is usually a good idea. Integration helps drive saliency which ultimately leads to sales. Pop-ups are no different than any other channel. A good pop-up should take a key brand proposition and bring it to life in a live environment. This doesn't mean literally building a physical version of your latest ad. It's got to work as an experience first and foremost.
Take the classic Lidl pop-up from a few years ago. The supermarket chain built a five-star restaurant in Stockholm called Dill, which provided a fine dining experience and was a huge success, selling out for weeks. The twist was that every ingredient used at Dill was sourced from Lidl. Dill was a physical manifestation of a brand proposition: "Budget food doesn't mean a compromise on quality." Experience and strategic thinking came together to produce something that worked underneath an overarching strategy.
---
Other articles you might enjoy:
---
Convey a message
Many brands and businesses invest time and money ensuring their pop-ups tell a full and immersive story. For the super keen brand fans, this level of detail is important. However, for the majority of visitors, the message a pop-up is trying to communicate needs to be more immediate. Take Lidl and Dill as an example. If visitors took only one thing from Dill it was quality (which is later associated with Lidl).
A message doesn't have to be communicated literally. It can be signaled through more subtle, sensory means, such as atmosphere. The lighting level, the smells, the sounds. Everything about a pop-up comes together to produce an experience. A good pop-up should convey a key message in two seconds as well as it does in two hours.
Take Benefit's Roller Liner Diner (RLD) in LA. Through it's wonderful pinkness, the RLD was immediately feminine and fun, with additional nods to the worlds of fashion and art. With several experiences available as part of the pop-up, Benefit managed to instantly communicate the essence of its brand while leaving more for people to discover.
Don't compromise on production
In order to deliver the most impactful pop-up experience possible, production should never be compromised. You'll never be so closely scrutinized than at your own pop-up. People judge you much more rationally in a live environment and it's not just the sexy details that matter. The quality of the seats, the number of toilets, the queue for the bar, everything comes together to deliver an impression. Always try to avoid a production budget ruining the quality of your experience.
An American pop-up that's gone above and beyond with production value in the last few years is Refinery29's 29Rooms, a celebration of culture, style and creativity to promote Refinery29's various media channels. The production team didn't miss a trick, which created stunning social content. Nothing was left to chance in their mission to create a great impression.
You don't need a production budget the size of Refinery29's to create an amazing pop-up experience. The devil is often in the detail when it comes to creating something truly memorable.
Make it photogenic
Another reason why production value is so important is the increasing pressure on pop-ups to be amplified online. Social reach is not a bolt-on. It needs to be built into the fabric of a pop-up from day one. It's almost impossible to control people's behavior in a pop-up space. You can't direct people towards the social areas of your pop-up. Everything needs to be photogenic. The quote on the wall. The way the products are laid out. Your brand ambassadors' uniforms. It all adds up.
Take method's fashion store from last year. The space ran for two days in October and generated excellent social results. Rather than relying on anything too sophisticated, the slow fashion store was simply a beautiful space. Social media sharers are more creative than you sometimes realize. Give people nice surroundings and they'll do the hard work.
Vaughan Edmonds is a planner at Sense. He can be reached  at [email protected].