Pin Down Holiday Sales by Dominating Pinterest
Tim McMullen and Ryan Woolley
As marketers, we are always looking for meaningful ways to subliminally engage with consumers, add value and convert browsers into buyers. Unfortunately, most social media channels lack the ability to drive non-assisted conversations and rely on attribution to justify spend. Pinterest, the social media platform for the idealist, is quickly gaining on Facebook.  In 2012, Facebook was the largest source of social networking traffic for retail sites during the holiday season, and referral traffic is now being directly related to e-commerce conversions.
According to the National Retail Federation, consumers are predicted to spend a whopping $602.1 billion during the 2013 holiday season and statistics show that 78% of shoppers research products online before buying. With over 70 million users indulging in DIY tips, fashion photos, products, recipes and mood boards, Pinterest should be on the top of marketers' lists when planning holiday promotions.
Here are 6 tips to help retailers and brands unlock the potential of Pinterest by creating an engaging campaign that drives sales and increases SEO rankings.
1. Make your image the hero
Pinners are dreamers. They want content that inspires, challenges, educates, or entertains—the more visual the better. Simply put, beauty is pin-deep, so invest in photography that shows your brand in context in order to make a meaningful connection with consumers. For example, a clothing company can share how to tie a scarf; a home decor brand can provide holiday DIY tips; and a food manufacturer can supply recipes or "healthy living" tips. Don't expect positive results if you cut corners and upload lifeless photos of your product on a muted white background. Things like mood boards, DIY "how-to" projects, and styled photography often have the longest life on the site.
2. Give pinners an incentive
There's no such thing as a free share. Research shows that 20% more people will share if they are incentivized. So don't ask fans to pin products or create boards on your behalf without giving them an incentive. Not offering daily prizes or a grand prize will limit participation. Find a way to either ask a few people to do a lot or a lot of people to do very little. Chances are your fans will share it with their friends, not only increasing your reach but also improving your e-commerce conversion rate.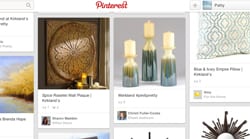 Take Kirkland's for instance. This home decor retailer created the "Pinning Parlor," a simple and seamless microsite full of inspirational pinnable images of beautiful spaces and products.  Each item pinned gave fans in-store coupons as well as one entry into a sweepstakes competition for a weekly prize pack. The month-long campaign skyrocketed reaching 303,337 interactions, more than tripling the industry average and leaving home decor enthusiasts with inspiring tips and ideas.
3. Post relevant content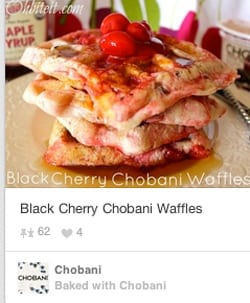 The key to any successful marketing campaign is to effectively reach your target audience where they regularly interact. Your brand doesn't necessarily have to be the king of style appeal to be successful on Pinterest. You just have to get creative and tell a story. Try presenting your brand as a lifestyle just like the maker of Greek-style yogurt, Chobani. Start by truly knowing your audience. What are their interests and hobbies? What do they care about? What do they dislike? Many of Chobani's boards have nothing to do with yogurt, yet they have nearly 100,000 followers because they positioned their brand as having the same values as their target audience. Get creative and start posting relevant content that adds value without interrupting consumers' lives.
4. Boost your outreach
Like Google, Pinterest is a valuable SEO tool that can be used as an avenue to acquire more links. The platform is a hotspot for bloggers and key influencers. Identifying relevant bloggers and building relationships with them is the first step to establishing a results-oriented, link-building campaign. In order to boost your outreach program, it's important to focus on pins that were linked from a website, rather than pins uploaded by users. Every website you find is a potential site to get a link from.
5. Utilize Rich Pins
Pinterest is quickly gaining on Facebook as a driver of converting traffic thanks to Rich Pins, which make it easier than ever before for online retailers to convert Pinterest traffic into sales. First, prep your website with meta tags and apply to be in the Rich Pins program. Once approved by Pinterest, start pinning away and your pins will automatically update with details from the meta tags. Pinners can now enjoy real-time pricing, availability and where to buy products, reviews for movies, ingredients and directions for recipes, and headlines and descriptions from articles.
Utilizing Rich Pins will not only increase your conversion rate, it will attract users who are in buying mode. Also be sure to utilize Pinterest Analytics to monitor performance metrics such as repins and likes. You can also keep track of the number of clicks a pin receives and revenue generated. Want to see an example of big brands using Rich Pins correctly? Check out the Target Home board or Martha Stewart Living Baking and Desserts board.
6. Don't Overload Pinterest
If you're an online retailer it's important that all of your products are pinned. So what if you're like Nike and have 5,000 SKUs or more? No pinner wants to feel like they are being sold to, or see an overloaded home feed with similar products. Mass pinning can not only hurt your brand image, it can make pinners do the preposterous: unfollow you. Make sure to slowly roll out your product pins in batches at different times of the day. Start with uploading popular holiday gifts or products based on revenue and order volume—this will maximize incremental revenue.
Pinterest is climbing the ladder to being a market leader for social commerce rather than just a "social media craze". It's capable of increasing aided and unaided brand awareness, improving SEO performance and driving incremental revenue, so don't get left out of the soaring Pinterest conversation.
Tim McMullen is founder and executive creative director of redpepper, a Nashville-based integrated advertising agency. Ryan Woolley is SVP Digital Marketing Services of Response Mine Interactive, an Atlanta-based direct response agency.