PepsiCo's Scott Finlow on How Tech is Reshaping Marketing
PepsiCo is an innovator in marrying consumer needs with innovative and emerging technologies to create state-of-the-art marketing wonders that drive sales and brand loyalty. Case in point: the self-driving snackbot.
As PepsiCo announced earlier this week, Snackbot is motoring around the University of the Pacific in Stockton, CA, at the ready to deliver Hello Goodnesssnacks and beverages to any of the 5,000 students. The robotic, snack-wielding, six wheeled, self-driving bot is well-stocked and students can place orders through the snackbot App to be delivered to more than 50 designated areas across the 175-acre campus.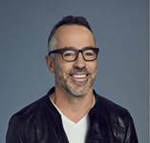 Scott Finlow, vp of innovation and insights at PepsiCo Foodservice shares how snackbot is marketed, and how technology is reshaping the brand's marketing.
CHIEF MARKETER: How do students learn about snackbot?
SCOTT FINLOW: We have been working closely with a group of student leaders who are involved in a variety of on-campus activities to help spread the word and introduce snackbot on campus.
CM: I know you have brand ambassadors on hand as well. What are their roles?
SF: The ambassadors are there to answer any questions students have snackbot, like how to use the app to place orders.
CM: Why Hello Goodness?
SF: We know that today's always-on consumer is seeking accessibility to great-tasting, healthier on-the-go snack and beverage options and Hello Goodness offers convenience and better for you options.
CM: What are your thoughts on how snackbot translates to brand affinity or loyalty among students?
SF: Through the nearly 50,000 Hello Goodness units (including vending machines, coolers and racks) out in the market, we've seen that today's college students expect and demand more convenient options for getting their hands on health conscious snacks and beverages. Snackbot makes that easy for busy students wherever they are on campus.
---
Other articles you might enjoy:
---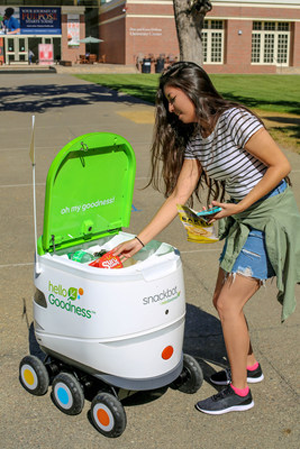 CM: What functions does the app for snackbot provide?
SF: Within the app, customers can track their order and use contemporary payment options, including Apple Pay and credit card options.
CM: Technology is key in your curated convenience initiatives. How has technology changed the way you think about or plan your marketing strategies?
SF: Snackbot brings purposeful design and technology together to elevate the vending experience. The clean design snackbot and our other Hello Goodness units signals better-for-you choices to consumers. Once we marry the art of the design with the science of technology and consumer insights, we are able to meet the evolving need of the consumer.