It's More than Meat—Arby's Adds Club-of-the-Month to its Menu
Arby's fans are getting way more than meat.
The brand just released the the Arby's of the Month club, the  "perfect subscription box" for super fans.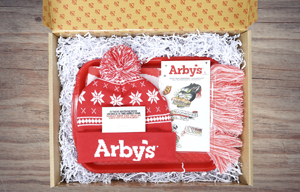 Customers pay a one-time $25 fee to receive a "carefully curated and themed box for six consecutive months, filled with sandwich and meat-inspired lifestyle gear. "That's less than cost of 26 Arby's sliders," Arby's notes.
"Arby's of the Month is our way of giving back to our fans in a fun and unique way by providing them with the Arby's branded merchandise they didn't even know they wanted," Arby's CMO Jim Taylor said.
The first box includes a vintage Arby's Sled Tray, a Bacon Scarf, an Arby's Holiday Beanie and a set of temporary Arby's tattoos designed by Long Beach artist Miguel "Uzi" Montgomery of Port City Tattoo.
Only a limited number of "Arby's-of-the-Month" subscriptions were available and they sold out fast.
The launch comes on the heels of the positive reaction Arby's received to last year's holiday launch of Meat Sweats, as a way to provide fans with more branded merchandise, rather than random one-offs. The campaign Arby's #MeatSweats from Manifesto won a 2018 Gold PRO Award in the category of Best Buzz.
---
Other articles you might enjoy:
---
In a campaign that perhaps only a vegan wouldn't love, Arby's literally gave carnivores the #MeatSweats. Arby's wanted to drive buzz around the brand at the end of 2017, and challenge other QSR brands launching their own limited edition novelty products, like KFC's Colonel pillow. They had only four working weeks to pull it off, and a budget of less than $100,000, including creating the custom product—actual sweats emblazoned with images of meat.
The head-to-toe custom apparel featured Arby's signature meats in photorealistic, audaciously loud sweatshirt and matching sweatpant combos delivered to the nation's most publicly passionate carnivores just in time for Christmas.