Paramount Disrupts with Free Drink Hooch App and Suburbicon
Paramount Pictures put the party in marketing when it launched a disruptive promotional campaign for the film Suburbicon.
In a partnership with Hooch, an app that provides free drinks to subscribers, a number of happy-hour style events were held across New York and Los Angeles to promote the October debut of the crime thriller directed by George Clooney. Hooch—and its restaurant partners—hosted and advertised the events to its 140,000 users across 10 markets. Subscribers get one free drink every day for $9.99 a month.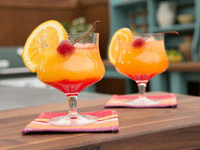 To stylize the event to the film, Paramount Pictures created the Suburbicon martini, which switched out olives for blood-red cherries. A robust event-centered marketing campaign from Paramount supported Hooch's efforts. The efforts helped Suburbicon stand out in an otherwise crowded movie market this fall delivering "brisk" attendance, Forbes reported. Some attendees were invited to an after party or to attend private screenings.
The author of the report, David Williams, called out the campaign as the best disruptive pull marketing effort he had saw this fall.
He spoke with Hooch CEO, Lin Dai, who said Hooch, slang for moonshine or bootleg alcohol, has hosted a number of high-profile events, including Ludacris and Busta Rhyme performances, often drawing upwards of 1,000 people to each event.
As people are often creatures of habit, returning again and again to their same favorite haunts, the Hooch-hosted parties encourage people to visit new restaurants and bars.
As in the Hooch partnership with Paramount, mobile is projected to be the dominant platform for disruptive marketers, according to Geoffrey Colon, who authored the book "Disruptive Marketing: What Growth Hackers, Data Punks and Other Hybrid Thinkers Can Teach Us About Navigating the New Normal." Intelligent devices—smartphones, tablets, watches, wearable gadgets, glasses, microchips, HoloLens, and others—will reshape and remix the marketing world. As the shift to intelligent devices continues, marketing is expected to strike up an even more personalized relationship with customers. "Those who can do it faster than their competition will lead in this evolving category," Colon says.
Related articles:
25 Brands that Hit the Mark with Disruptive Marketing