Nissan's Annual Marketing Event Drives $100 Million in Business
For the last six years, Nissan North America, and its partner agency The Marketing Store Worldwide, have carefully polished Nissan's largest service promotional marketing event of the year to continually improve its performance—now driving a 15% response rate and more than $100 million in business for its dealerships.
"Every year we go through in deep detail what we hoped to accomplish," Kent O'Hara, director, sales and marketing, parts and accessories at Nissan North America, said. "We look at customer engagement, dealer engagement and whether our customers found the event aligned with the brand and leaves them with a strong affinity for the brand."
The events run for 60 days, purposefully homing in on what had been dealers' slowest months of the year, August and September.
"That's when we had our biggest drop off of customer activity," O'Hara said. "We made a conscious decision to turn it from our lowest point to our highest point and that's exactly what we've done."
There is 100% buy in for the promotion from the more than 1,000 dealerships that receive up to four different versions of marketing kits, including customer appreciation kits with branded Frisbees and other giveaways to core marketing kits that include window clings, P-O-P, counter cards and other materials. New this year, dealers can order a BBQ kit to host a summer picnic for customers.
The idea is, to once a year, reach out to Nissan's total customer base encouraging them to come in for service or to reactivate those who haven't been to a dealership for some time. That includes more than 6 million customers, 60% who receive direct mail and 40% who get email.
"The offers attract a significant number of customers who haven't been in for service for a really long time and that gives us the ability to track customer retention," O'Hara said. "If they are continuing to come back and we've steadily made progress, that helps justify doing this year after year as well."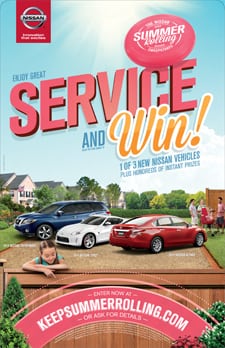 The offers and prizes are all developed based on customer feedback through online focus groups, like the three grand-prize cars up for grabs during this year's "Keep the Summer Rolling," event, free maintenance contracts, coupons and discounted oil changes.
"Every piece has been designed based on actually Nissan customer feedback," said Liam Steuart, vice president of client services at The Marketing Store, who's relationship with Nissan goes back 10 years.
Nissan has been able to maintain a flat $2 million to $3 million budget for the program as digital, mobile and social have provided more inexpensive venues to reach customers than direct mail. It learned from prior years that customers often found out about the promotion while at a dealership, so it made it possible to enter right then and there through mobile devices. A Facebook app developed with Moontoast, "This is how I roll," encourages Nissan's 6.5 million fans to participate in the sweeps and to share their summer experiences socially through posts and video. The app allows users to create a more dynamic post, including a countdown that linked to the launch event and had almost 1,000 customers waiting to enter the sweeps on Aug. 1. Nissan is also testing Pinterest, encouraging consumers to post about their summer there as well.
"Our budget has not increased," O'Hara said. "With all of the marketing channels that exist, especially in the digital world, that's how we've been able to do more with the same budget. In particular, taking the savings from needing less print and postage and using more direct channels allows us the enhance the promotion while leaving the budget flat."
"Keep the Summer Rolling," centers on a sweepstakes giving away the three cars; a 2014 Nissan Altima, 370Z sports car and Pathfinder, as well as other prizes like dollars off accessories, and free service and maintenance contracts. There are many incentives, like additional prizes, to encourage customers to return again and again to the promotional websites and social channels.
Dealers also get a chance to win prizes, like credits toward future marketing programs, if they get all promotional materials up and social platforms populated by Aug. 12.
In addition to this major annual event, Nissan and The Marketing Store run a regular slate of CRM communications, or personalized reminders, for customers to come in for service based on the length of the ownership of the vehicle and other criteria. Promotions are also designed for those customers who may only come to the dealership once per year, but haven't yet come back.
"When we first tested the concept to see if this was going to be a one time or lasting thing we came to conclusion that this resonated strongly with our owner base," O'Hara said. "They're now familiar with it and look forward to what's going to be new what's going to be different with the campaign this year."